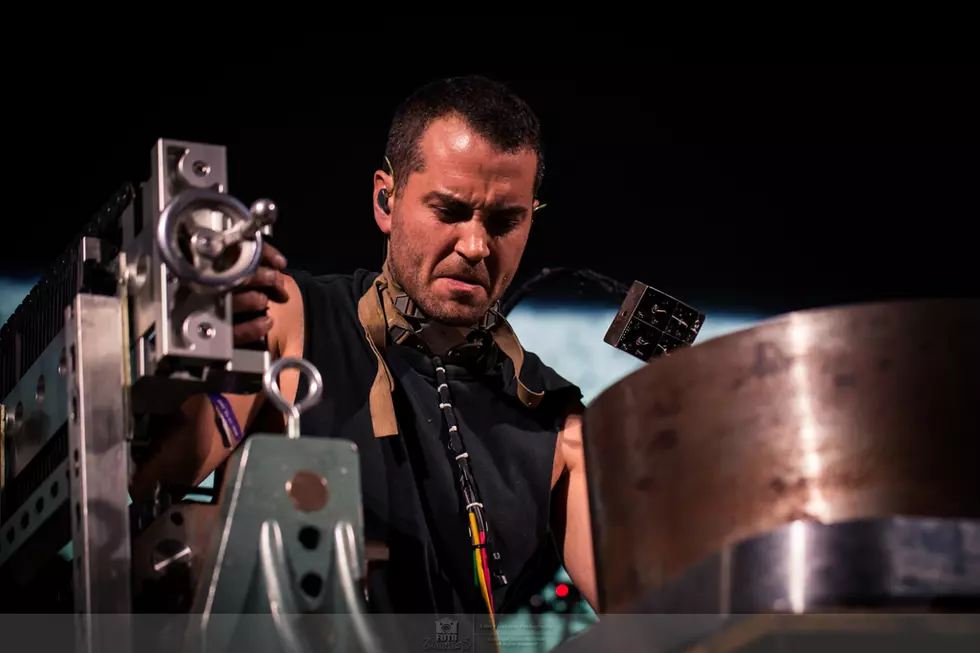 Housecore Horrorfest 2015 Part 2
Author and Punisher
All photos by Alyssa Herrman & Foto Phortress
III. Saturday the 14th
Saturday began with a stop at the Holiday Inn for some movies, and to check out the media signing area. Paul Booth was there giving a member of Superjoint some fresh new leg ink, and Sleazy P. Martini was chatting with fans casually at his table and signing merch. The atmosphere was relaxed and easy going, and as I checked my watch after awhile, I realized I had once again missed the opening band of the day, so I hoofed it to the Aztec.
Gasmiasma, a New Orleans hardcore unit with members of Down and EHG, still pulled off a memorable set according to those who were there, considering most of the crowd from the night before was still in their rooms waking up to massive hangovers, or wandering the immediate area outside the venue looking for food. Continuing the hardcore punk theme of the afternoon was Nails, who I had never seen live before. The band absolutely savaged the afternoon crowd, coming on like a hurricane and never slowing down, and I remember thinking that I really really really need to see them in a small club.
Long-time Oregon punkers Poison Idea were up next, and while they were very good, there was a bit of energy lacking from the stage, especially considering the power of their recorded work. I don't need a frontman to flail around like an epileptic tweaker but it's also good to see some fire, and whether it was due to the early set time or my own expectations after listening to them for so long, there just wasn't enough of it, for me at least. Great tunes though.
Italian grind crew Cripple Bastards stormed the stage next, and the energy that was missing from the previous act was there in abundance for CB. Their singer didn't move around very much or do any hysterics, but rather gripped his mic and bellowed with a look on his face that seemed fitting on one of the killers in the movies being shown down the street. To say he was intense is not giving the word enough power. The crowd seemed stunned by his anger, and as they wrapped up the energy level was getting right back up to acceptable levels. Dropdead was next up, and they fed on that energy like starving vampires. I'm not too familiar with their recorded stuff sorry to say, but I was impressed with what I saw. The decision to make the afternoon one of high energy punk and hardcore was a good one, and so far it was shaping up into an excellent evening.
Hardcore doom pioneers Crowbar began their set to a fairly full house, and it was quickly apparent that singer/guitarist Kirk Windstein was probably going to hold the title of "Most Brutal Vocals" for the day. I've seen them many times over the years, and his voice is normally pretty gravelly, but tonight he sounded like he was retching up razors. They bashed through songs like "High Rate Extinction" and "Planets Collide," and I settled in at the side of the stage, alternating between watching Windstein bludgeon the crowd and Tommy Buckley do the same to his drum kit. A couple people next to me were engaged in a heated debate about whether or not Down would make an appearance, since all of the members were present in separate bands this weekend. It never happened, of course, but hey, maybe next year.
I stepped out for a beer on the sidewalk (actually the Riverwalk, because by this point the local police were all over anybody drinking by the venue) after Negative Approach played their first couple of songs. I like them, but I like related project Laughing Hyenas a lot more, and all the nihilistic rage from the day was making me thirsty. When I returned, the band was finishing up, and the place was getting rowdy for COC.
Corrosion of Conformity has been around in one form or another for more than 30 years, but it has been awhile since they had singer/guitarist Pepper Keenan in the ranks, and you could tell the fans missed him. I love the band in any incarnation, but tonight felt special, as they ripped through a set list packed with songs from their classic Deliverance album, which first featured Keenan as a full-time singer. It was one of those rare shows where the crowd and band became one, just like the night before with Superjoint and King Diamond, and it was so good that even Jesus got into the act.
The funniest moment for me of the weekend was watching Anselmo sneak onto the stage and slap Mike Dean's ass before goofing with Keenan while the band jammed out. Anselmo could be seen most of the weekend on the side of the stage, cheering on his favorite bands and pegging unsuspecting audience members with paper coffee cups, and it was a treat to watch him act the fool with his friends while they thoroughly and utterly rocked San Antonio.
Agoraphobic Nosebleed took the stage next, for the second time ever, to an excited but somewhat different type of crowd. Lots of formerly rowdy audience members were now watching with rapt attention through their phones/tablets, recording the moment instead of acting out the visceral intensity like in the earlier part of the day. I heard quite a few people bitching that ANb stuck with having a drum machine for a rare live performance, and others that certain members weren't on stage, but they sounded fine to me, though I admit I've never really been a huge fan. I think they do what they do well, and their members have been involved with some great stuff in the past, but ANb never really did it for me. That being said, Scott Hull and company made a tremendous racket that left an obviously favorable impression on the people in attendance, and obliterated us all with short bursts of controlled fury.
I waited a long time to see Suffocation live. Every time the legendary death metal outfit played in my area I had some other more pressing life issue to deal with and missed them. Tonight, the line up included OG vocalist Frank Mullen, who doesn't tour full time anymore due to his job, and the audience was eating from his hand from the moment he came onstage. Waving his hands and stalking around the stage, Mullen and his patented growl are counterpoints to guitarist Terrance Hobbs and his focused flailing riffs and touring drummer Kevin Talley's sharp blasts. Hobbs is incredibly fun to watch, playing Suffo's trademark breakdowns and mind-bending leads with a grin on his face occasionally appearing in spite of himself. The side of the stage was packed with members of the earlier bands and friends having a good time, though the theater energy from the fans was not quite as powerful as the night before (really, how do you top King Diamond doing "Abigail" on Friday the 13th?), but it was still an excellent show nonetheless, and Suffocation proved well worth waiting for. The party continued well into the night at the Korova, as '70s metal act Thor rocked faces hard, with Anselmo, Dave Hill, and a loincloth providing extra entertainment.
IV. Sunday the 15th
The next and final day of HHF began with a search for decent pizza and stuff lost from the night before, then interviews and more movies at the Holiday Inn. For the third day in a row, I had such a good time hanging out that I missed out on the first band of the day, Muscle and Marrow, who I've seen before this year and who are absolutely breathtaking live. Bummer, I know. By the time I got to the Aztec, New Orleans sludge act Gristnam was winding up their crushing set and those in attendance told me they had been just as crushing as their related act haarp had been. Hearing the last song, it wasn't too much of a stretch to believe them. Heavy stuff.
The theme for most of the afternoon's music was more experimental and psychedelic than the previous days, and that was exemplified best by one-man machine Author and Punisher. Tristan Shone has perfected his DIY robotic instruments into an often terrifying array of otherwordly roars and bashing rhythms, and along with the hypnotic imagery displayed on the screen behind him, he settled in to leisurely unsettle everyone in the Aztec. The theater was the perfect environment for his efforts, and the set was made even better by the addition of the members of Muscle and Marrow joining Shone onstage for a long, ethereal collaboration. So, remember earlier when I said that I missed seeing Muscle and Marrow? It turned out to not be so true after all.
Eugene, Oregon doom titans Yob quickly got set up and launched into a concrete-rumbling take of "Ball of Molten Lead," and by the end of the song it seemed anyone in the crowd who wasn't already a fan had become one. Yob is pretty much legendary for their live shows, and for good reason. There are no stage theatrics, no macho posturing, nothing but volume, great songs and passion. Guitarist/vocalist Mike Scheidt and the drum/bass combo of Travis Foster and Aaron Rieseberg are able to lull their audience into another frame of consciousness with delicate ease before smashing them to bits, something which looks easy but takes equal amounts of skill, practice and patience. I have seen them several times this year, and each time I walk away with the feeling that something healing just took place. This time it was right after they played "Marrow," and as I looked around at everyone in attendance, I could see that I wasn't the only one. Yob put on the best set of the day in my opinion, followed closely by Author and Punisher.
After Yob, Bay Area weirdos Ghoul, who took the stage in their usual masked attire and proceeded to kick out a fun set full of grindy thrash (thrashy grind?) accompanied by the antics of their costumed compadres. I saw GWAR many times in my younger years, so I was inclined to love the live set that Ghoul brings. Their burst of speed and goofiness was like a bucket of ice water down your shirt after the hypnosis of the previous bands. The crowd enjoyed the giant robot, the fluid squirted into the pit from a nefarious looking character who loved to goose step, and the between song banter in equal measure, and as Ghoul wrapped up their set I went out in search of some food.
The Pennsylvania space synth act Zombi had just started when I returned, and their layered epics were just the thing I needed to accompany kicking back and digesting dinner. The Zombi duo looked almost dwarfed by the theater's dimensions, yet produced a rich, full sound that permeated the air out in the lobby.
While watching, it occurred to me that this festival seemed kind of backwards as far as the pace of the weekend was set, at least at first glance. Having a packed roster ending with King Diamond on Friday raises the bar pretty high for the rest of the weekend if you look at this as just another fest, but I don't think that was the intention, especially as King was on tour at the time and had limited scheduling. Friday and Saturday were almost breakneck in the sense that you didn't want to miss a single thing, and Sunday was the day everyone started to slow down, getting their heads ready to go back to the real world. The set by Zombi went on just a tad too long, as the droning fusion they play is great to listen to but not so much to watch, especially after a visual act like Ghoul, but I enjoyed them and look forward to seeing them again in a different setting.
Following Zombi was a short film awards ceremony, and emotional tribute to deceased co-founder Corey Mitchell. This was my first HHF, but people I know that were there in years past and had met him said he was one of the sweetest humans you could ever meet. The tribute seemed to prove that. Right before the next band came on, my ride out of town showed up early, with kids in tow, so I unfortunately had to leave before Incantation, Autopsy, and the Goblin live score of Dawn of the Dead.
Shit happens folks, if you want I'll buy you a beer sometime and you can chew me out all you want. If it helps, everyone I know that saw the rest of the night had an amazing time and said that I missed out, and judging just by the footage of Autopsy that I've seen, they were right.
Housecore Horrorfest 2015 left me exhausted, slightly deaf and smiling. If more festivals operated this smoothly and with this much love and attention to the various themes, I would be going all the time. It was a blast seeing musicians who I've been listening to for more than 20 years mingling and interacting with their friends and fans before tearing it up on stage, then joining the crowd in cheering on the following bands. There were so many good bands, films and people that it would be a mistake for any metalhead to miss next time around, and I'm excited to see what Anselmo and crew have in store for 2016. Just bring a flask or two.
More From Invisible Oranges