Housecore Horror Film Festival, Part 2
Saturday was a bit of a write-off for me band-wise, because my film Decibel Magazine's 100th Issue Show: The Movie was having its 'world premiere.' I had to get down to Emo's by 10:30am, which normally isn't all that early, but when you've been chasing Lone Star and Shiner Bock with mega THC sessions and Ativan all day and then staying up til 7am watching Psychomania on TV...well, waking up is a bitch.
The premiere was cool; there was a red carpet and I had to pose with Pig Destroyer and Repulsion for pictures, which was awkward as fuck but whatever. If someone is going to host a red carpet for one of my movies, I'm not gonna be a jerk about it. A lot of people worked really hard on the film, so it did feel nice to have that recognition from a group of people who truly are my peers. Plus the dudes in PxDx and Repulsion are all awesome people so any chance to hang out with them is worth it.
After the red carpet, we all filed into the tent — there was a decent turn-out considering the AM time, and a short film from Quebec played before the Decibel movie, which I felt was kind of cool since I'm from Quebec and went to film school there.
The movie went over great: people laughed at the funny parts, bobbed their heads during the music parts, and clapped at the end — it was great seeing the film on a big screen and having it blasted super loud. It's nerve-wracking as hell sitting through one of your own movies, and I went back to the hotel when it was done and crashed for a good while. So yeah, I missed Hate Eternal, School of Rock, Star and Dagger, Iron Reagan, and some others. Can't win em all. I made it back down to Emo's around 7pm – just in time to catch Honky.
Honky was one of the bands I was most excited about seeing at Housecore since I'd never seen them before, am a HUGE Butthole Surfers fan (Butthole J.D. Pinkus plays bass and sings in Honky), annnnd Dale Crover was on drum duty in the band. Honky lived up to and exceeded the hype in my brain. They're like an alternative, heavier and faster ZZ Top — riffs, rock, swagger, groove, southern-fried and tight as fuck. If you get the chance, go see these dudes. Again, awesome to see "older" dudes outdoing the younger folk.
After Honky I went to get prepped up for Melvins. I found a massive jug, like a four litre tank of vodka, and spent a little while mixing that with Sprite and pounding Bud Lights for some reason. I kind of wanted to miss Whitechapel. No offense to the band, just totally not my thing. It's always super emotional for me seeing the Melvins — they're easily one of my favorite bands and I just sort of like to zone out a bit by myself before I see them and prepare for the feels. Any Melvins show you are lucky enough to see is a gift. Billy Anderson was going to be mixing the band — his first time since 1995, so I got back to Emo's quick so Billy and I could set up some cameras on him and the band. (I'm making a documentary on Billy Anderson and we wanted to capture some great footage.) It was pretty nuts being backstage at this point. Buzz and Dale and Pinkus were floating around, as were all of the Eyehategod dudes, Phil Anselmo, Repulsion...it never ceases to amaze me how everyone who knows what's up drops everything and gets shit straight in order to watch Melvins do their thing.
I was idly chatting with Billy as Buzz Osborne nonchalantly strolled by and handed Billy his guitar so he could attend to something else. Billy strummed out a few chords and noodled around on the custom burnt/orange "King Buzzo Special," made by the Electric Guitar Company. That really blew me away. That's like Thor just handing you his fucking hammer while he goes to take a leak — I reached out with one, trembling, fanboy finger and thought about just sort of touching the body of the guitar but chickened out at the last minute. What's that line about stabbing the devil in the back from Usual Suspects – what if you miss? Well, what if I somehow fucked up the guitar? No way I'd take that chance. But it was cool to see the trust and camaraderie between Billy and Buzz. I've seen the Melvins five or six times in various incarnations — Fantomas/Melvins Big Band, and as the four piece with Big Business a few times, but this was going to be my first experience seeing the band as a trio. Jeff Pinkus was on bass, and I overheard Buzz tell someone they were doing Butthole's "Graveyard" during the set. I was in heaven.
The set met/exceeded/melted all and any expectations. Seriously one of the best live bands ever, and you never know what they're gonna play because their catalogue is so enormous. They did a wide range of stuff, including the aforementioned cover of "Graveyard", which ruled super hard. They played "Let It All Be" from Bootlicker, they did "Hag Me" from Honky, a killer rendition of "We Are Doomed" from The Bulls & The Bees, and most surprisingly, closed off with "Your Blessened" from Bullhead. As they launched into that classic fucking riff, I heard Gary from EHG utter "What?" with total amazement and glee. It's the best I've ever seen the Melvins play, but then again, every time I see the Melvins play is the best I've ever seen them play. So fucking good. I left after they played. Watching any other bands after the masters would just be a waste of time. I went with Champ from Kill the Client and my good friend Laina Dawes to the legit Mexican place across the street and gushed over all things Melvins while scarfing down chips and some hot sauce that would melt your nuts off.
The Melvins - "You Blessened"
Another one of my films was playing Sunday, so again, certain things were a bit of a write-off. A Stone, A Leaf, An Unfound Door: Rwake live at MDF X played at 4pm, along with new videos by Voivod and Portal. Phil Anselmo introduced my film, which was super fucking cool, and the new Portal and Voivod videos were awesome. It was refreshing to see underground metal videos that actually had budgets being produced. There was a good turn-out, considering Pig Destroyer were playing at the exact same time — yeah, how's that for competition — but whatever, it was cool and the Pallbearer dudes were in attendance, which was neat. I really wanted to see Pig Destroyer with their new bassist, but it just wasn't meant to be.
The big thing for Sunday, in my mind, and in a lot of people's minds I think, was the performance of Eyehategod. As most people know, Joey LaCaze, founding drummer and totally rad dude, recently passed away. I wasn't close friends with Joey by any means, but I'd met him a bunch of times and interviewed him several times for the Eyehategod documentary I am working on. Joey was a totally magical person and one of the most underrated drummers in the scene. Eyehategod's performance at Housecore was set to be extremely bittersweet, to say the least, since it had been announced that Melvin's drummer Dale Crover was filling in. To say the vibe was heavy leading up to the set is an understatement. All in all, I think it's safe to say we — the fans, band members, anyone who ever knew Joey — were there to celebrate Eyehategod and share our grief and joy over everything EHG that had come, and will come, to pass.
The set, to be blunt, was fucking incredible. EHG always slay live, and with Crover on the skins, the band maintained the level of sonic mastery they're known for. It was interesting to hear the nuances Crover's style brought to the band. As the EHG dudes told me, "Joey had a swing to him that nobody can replicate," and I don't think Dale was there to try. He played his heart out, hit hard and stayed the rock of the songs. About halfway through the set, the crowd broke into a chant of "Joey! Joey! Joey!" Crover came out from behind the set and said a few words about the event. It was touching and real. I'm glad I got to witness and take part. Billy Anderson mixed these guys as well, and they sounded incredible. Later on, Mike Williams told me 'there were a few glitches but we worked it out," and I think that was probably the point. The band closed the set with a goosebump-inducing cover of the Melvin's "Easy as it Was." What the hell else can you say?
Eyehategod - "Easy As It Was" (Melvins cover)
The last band of the night for me was Phillip H. Anselmo and The Illegals. That's right, I didn't watch Goblin live-score Suspiria. While I obviously respect the band and think it's super cool to live-score something, I'm not gonna be a poser and gush; just not relevant to me.
"Walk Through Exits Only," the first album by Anselmo's new band, has been in heavy rotation for me since it came out. For whatever reason, I didn't expect this album to hit me like it did, but it's become a fave of mine since August. I saw the band in Toronto a few months prior and they blew me away, so I was stoked for a repeat performance. They didn't disappoint, it was fucking great: high energy, legit, underground metal/noise-rock grindy at times, balls-out songs. The amount of passion in that band is contagious as hell, fun and meaningful — they played their new song "Ugly Mug" and opened with a cover of Portal's "Black Houses." For me, it was the perfect way to end the four days of debauched bro-hangs, music, film, food, drink and revelry that was Housecore Horror fest.
Philip H. Anselmo & The Illegals - "Betrayed"
I hope they do Housecore again next year, but this time, no matter how bad my nerves are, I'm staying away from the Ativan. I came home nursing a mild fucking addiction to that shit and my wife has been withholding "relations" until I kick it — and the extreme, eruptive diarrhea that comes with the withdrawl. I'm sticking to weed and hugs from now on.
Uber props to Philip, Corey, Kate, Tammy and everyone that put on the fest. It rivaled MDF in terms of hangs, bands and fun and that's no easy feat.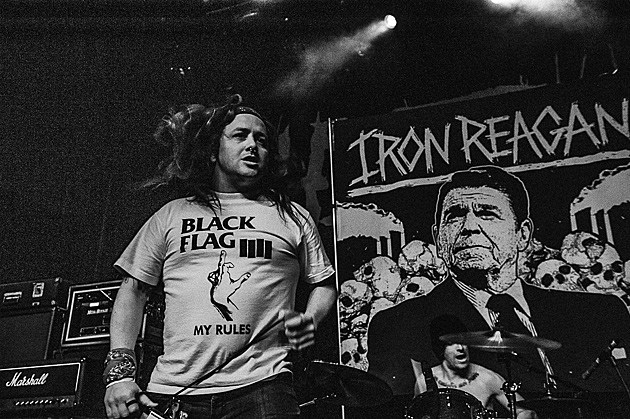 More From Invisible Oranges