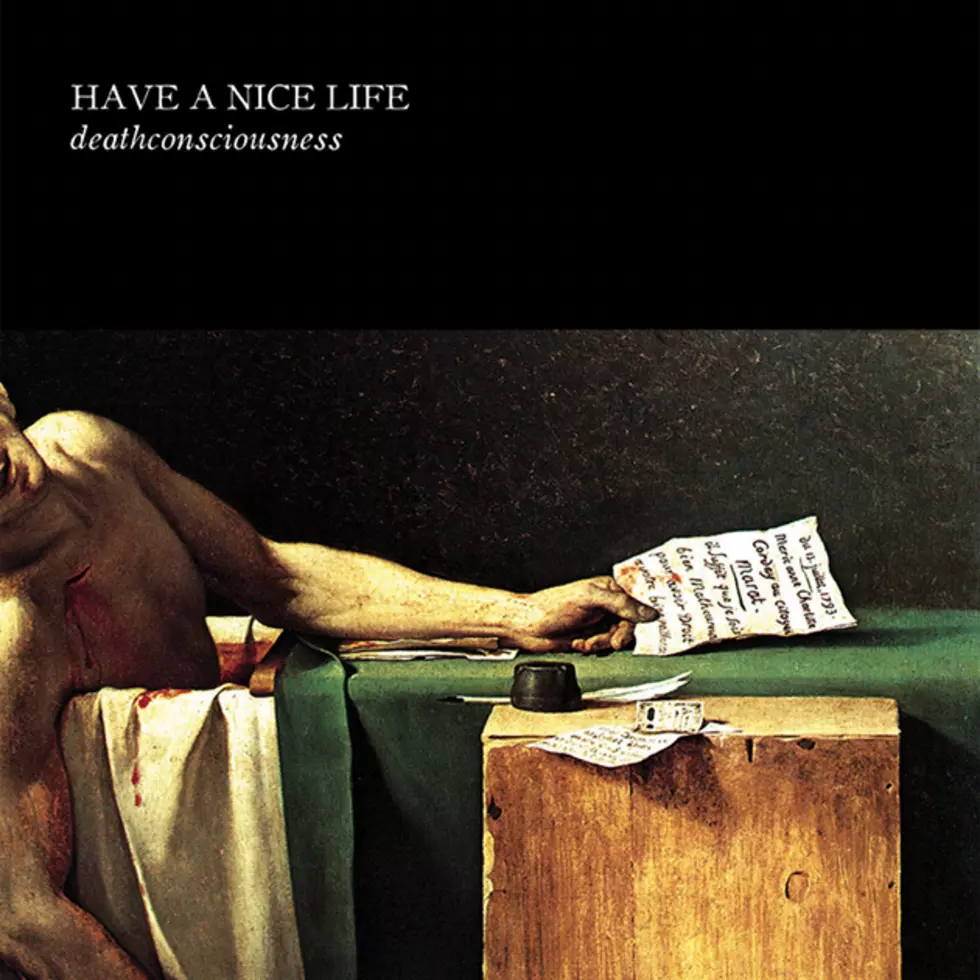 Have A Nice Life – Deathconsciousness
At six years old, Have A Nice Life's debut album, Deathconsciousness, is anything but new, save for its recent repressing courtesy of Enemies List and Flenser Records. The album secured an enduring fanbase in 2008 that has continued to unearth collections of alternate recordings and B-sides, amounting the debut's reissue and subsequent revisitation here. Songs like "Earthmover" even find their way into setlists for Giles Corey, an acoustic project of Have A Nice Life co-founder, Dan Barrett. Barrett, along with the band's other half, Tim Macuga, create a gloomy yet bright exercise in genre-melding, channeling aspects of post-punk, electronic, industrial, shoegaze and black metal. The collection is adept in its eccentricity, with the duo's songwriting knack lending each song its own sense of being.
Deathconsciousness is massive, clocking in at nearly ninety minutes, shifting schizophrenically from meditative to berserk, without being jarring. The opening track, "A Quick One Before the Eternal Worm Devours Connecticut," is a seven-minute instrumental of acoustics swimming within dreamy synthesizers. "Bloodhail" is, stylistically, one of the album's more straightforward songs, a post-punk anthem that takes cues from 1980s post-punk with its boisterous bass lines and echoing beats. The guitars exist simultaneously in a realm between life and death, imbued with a forlorn melody compounded by the mournful croons of Barrett and Macuga. "The Big Gloom" is defined by its elegant bass lines and vocal patience, waltzing those complementary elements to the tune of wavering static.
In LP format, Deathconsciousness is meant to be a double album, with the first seven tracks forming the more organic The Plow That Broke the Plains, while the six remaining, electronic-heavy tracks comprising The Future. At the precipice between its halves, the album doesn't fully shed its flesh in favor of metal or vice versa, rather streamlines them into a single, horrifically-perfect entity. The humorlessly titled, "Waiting for Black Metal Records to Come in the Mail," is the bridging point between discs, with the briskly-paced post-punk being drowned out by distortion and synthesizer by its end. "Holy Fucking Shit: 40,000" segues from the prior track with a gentle melding of ukulele, twinkling electronics, piano strokes and vocals that exist behind a warm, muffled fuzz. "The Future" moves furiously, at times even boisterous when its choruses explode with spastic pop influence.
"Earthmover" is an epic of a sad song, with its eleven minutes paying homage to the palette that makes Deathconsciousness the unique creature that it is. Opening with strident riffs, the ground quickly gives way to a booming drum machine and intermittent wisps of piano while Macuga and Barrett wail tenderly. At its midsection, the song offers a moment of respite, with the vocals calling to each other from phantasmal peaks that ascend to angelic heights. As if exhaling for the last time, the song bursts into a tremolo-picked exaltation that suddenly, almost miraculously, burns away the existential woe that Deathconsciousness brings on.
While Have A Nice Life are adept at channeling their varied influences into their unique sound, similar to conceptual peers Planning for Burial and Lonesummer, what sets them apart is what their sound evokes: Deathconsciousness is a work of loneliness, apathy and paranoia, and while it wallows in them, it is unafraid to embrace them. Given the reissue, now is the perfect opportunity to revisit this album, a piece that drains as much as it replenishes.
Have a Nice Life's reissue of Deathconsciousness is out on The Flenser and available here.
More From Invisible Oranges