From The Bandcamp Vaults #12
Welcome to 2018! Step right this way for your (almost) monthly dose of Bandcamp finds that traverse the metal spectrum. We've got all your grindcore, hardcore, and softcore needs filtered down to an easy-to-use interface, along with thought provoking musings intended to and destined to go nowhere. The door is always open at bandcamporanges@gmail.com for your input and suggestions.
Free (or might as well be)

Post rock exalts its message like a long, gentle massage with occasional bouts of eye-watering pain, while powerviolence acts as its foil; it aspires for meaning through strong punches to the gut that provide little time for reflection. POVVER.VIOLENCE hits you with such blows for ten-minutes with a welcomed clarity of vocals and breakneck passages intended for you to lose your shirt. What sort of lesson can we learn from LØVVE and brevity?

Involuntary Unearthing contains a little bit of everything done well, predominantly throwing noise, sludge, grind, and hardcore against the wall with the discordant ferocity of Keelhaul, minus the self-parody. The outcome challenges your math skills while appealing to your reptilian brain. Hemwick calls to mind an era of metal circa the early 2000s full of heavy chunking riffs and a bass tone that sounds like a distressed engine. A sound for sore ears after muddling through hours of mediocre metal.

Autolith introduces Autolith with ten-minutes of crunch heavy hardcore influenced equally by Isis and Entombed; the tones indicate death metal but the riffs speak hardcore. Supported by crushing production and concise songwriting, the Memphis, TN trio keep it tight and close with the superb "Death Gazing."

This split deservedly ended up on a few year-end lists, including that from our own Andrew Rothmund, but it merits a second look due to its late release date. It features two tracks that cross the twenty-minute line from two Australian acts that provide a courtesy feedback facelift. Siberian Hell Sounds performs relentless raw black metal coupled with hardcore harmonies reminiscent of Hexis. The vocals could peel paint and "The Breath Of The Beast" sounds like pure torment. Convulsing offers more of a technical death metal assault with riffing from the Immolation and Ulcerate playbook. "Engraved Upon Bleached Bone" follows bursts of enlightenment with bouts of meditation that occasionally meander but quickly recoup.

Depending on the scope of your hangover, Synkronyk is either a revelation or your worst nightmare. Rather than apply louder sounds in the neverending quest for heavy, Bisbâyé employ more of them at a temperate volume. Two drummers and two guitarists play perfectly in and out of sync against each-other with a bass in the middle stretched like a child in a divorce. The Montréal five-piece generate riffs that sound like King Crimson on a date with Serious Beak while a jealous Sleepytime Gorilla Museum watches from the corner. It sounds at times like listening to two songs at once and the percussive juxtaposition is oddly danceable at moments. Those prone to epilepsy or vertigo have been warned.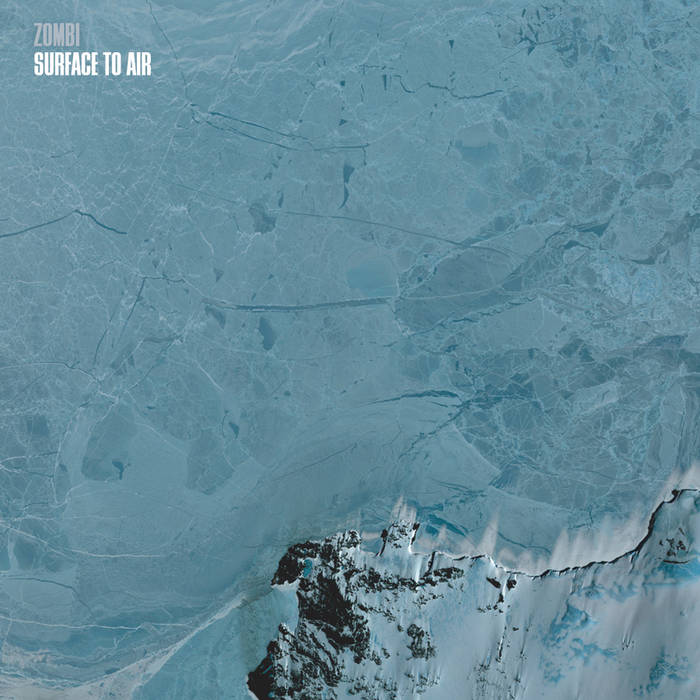 If a zombie chases you in 5/4, do you gain a beat running past the remains of those who fell before you (no doubt in common time), hoping the extra quarter note will give you the leg up against those wishing to devour your innards? Does that assuage your predicament or does Zombi strike at the heart of all philosophy, to grapple with man's intent in the face of demise and intellectualize the grotesque? Relapse wisely signed up Zombi and Cosmos hit hard in 2004. The boundaries of metal had seen increasing border extensions thanks to the Net and the Pittsburgh duo brought a love of prog and horror soundtracks no hessian could ignore. While Cosmos delivered the goods, Surface to Air strikes at the heart of what Zombi set out to achieve. It's a violent philosophical mess, and reignites the connection between death and fate with thoughtful compositions that expose a stronger finale for the soul. It satisfies your deeper musical sensibilities but a cavernous message tugs in your psyche, one that the masters of horror crafted with their vision of America post-Vietnam War. John Carpenter and Tom Savini understood the complexities of murder and channeled that into art, and Zombi, whether wittingly or not, carry on in that tradition. Putting all that aside, "Night Rhythms" flattens your ego and justifies any time you spend lying in bed drunk wondering what's wrong with the world; I want it played at my funeral. Music should make you think, and Surface to Air makes you listen.

Perfect Body, the debut album from Wellington, NZ three-piece Mermaidens, combines elements of shoegaze with 90s grunge and landed as one of my year-end Honorable Mentions. The songs don't explode with intensity but speak of tension and reflection, and the result simmers rather than boils. Great bass playing ties together songs filled with jagged and discordant melodies, and the haunting vocals loan the music an ethereal quality. The video for "Satsuma", one of my favorite tracks from this past year, came from Wes Anderson's cutting-room floor and warrants a view.

Despite existing as a pastiche of genres passed, OUH LÀ LÀ unearths fresh sounds blending French pop and American surf rock loaded with reverb and psychedelic synth from fifty-years prior. Lead singer and songwriter Anna Jean applies the glue that binds. Her cool and disaffected vocals, redolent of Nancy Sinatra, elevate Juniore above simple youth obsessed with the past. OUH LÀ LÀ becomes slightly repetitive by its conclusion but continued whittling should reveal more diversity from the French trio.
More From Invisible Oranges