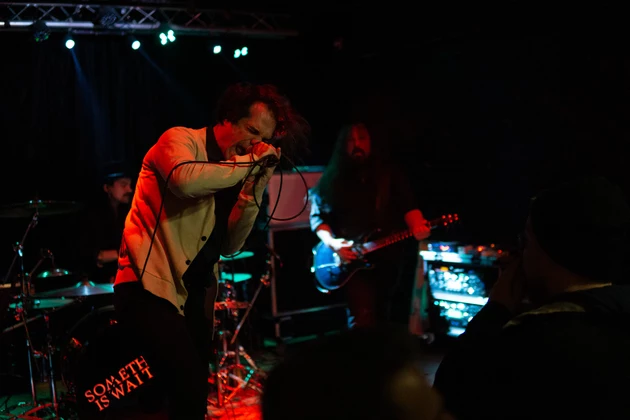 Something is Waiting, Armored Assault, and Cloud Cruiser Ushered in Chicago's Forever Deaf Fest IV (Live Report, 1/19/2023)
Photo Credit: Ted Nubel
---
Although Chicago's Forever Deaf Fest has always managed to snag outside acts to adorn its bills–this year Massacre headlines Saturday–it remains chiefly a showcase of Chicago's best, brightest, and loudest. This year marks its fourth iteration, and like last year it started off with a pre-party, held at Live Wire Lounge. Although locals Unto the Earth had to drop last-minute, three other Chicago staples held the line: stoner rockers Cloud Cruiser, progressive thrashers Armored Assault, and the incomparably bizarre noise rockers Something is Waiting. In attendance were plenty of diehard scene veterans and members of the bands set to play tonight and tomorrow's editions as well - read on for more on the show and plenty of photos.
...
...
Cloud Cruiser has always stood out to me among Chicago's stoner rock roster for, quite simply, actually feeling like stoner rockers and not metalheads tired of playing fast. Bassist/vocalist Tim Ramirez exudes 'drip,' as I believe it's called now, and while you likely can't get Ramirez's killer bolo tie that easily, the band does sell their own custom one. On the subject of aesthetics, drummer Craig Godar's kit looks fucking sick.
In stellar form, the trio knocked out two selections from their I: Capacity EP as well as "King Couch," a track off a Shuga Records compilation, and some as-yet-unreleased songs slated for their next album. This might be their only show this year–stay tuned for that new album, though, and make sure you buy their custom Soothsayer-made hot sauce before it sells out. Certified delicious.
...
...
Watching bands like Armored Assault manage to fit on Live Wire Lounge's deep, but relatively narrow stage is always fascinating to me. Last time I saw them at the Cubby Bear in Wrigleyville, I recall they were packing double kick drums, custom stand-up banners, and filled the stage just like their name might imply: a gleaming onslaught of steel and Tolex. At Live Wire Lounge, you get that same energy and stage presence packed into half the space, with drummer Mark Suttner practically trapped behind his kit and the rest of the band strategically grouped up like a spearhead charge into the audience. Honestly, it speaks to their long-running gigging history and cohesion that they got on and off the stage easily on schedule. As the lights went down and deep red hues replaced bright blue light, we got a few songs off their 2021 album Blood Queen ("Dead by Dawn" would be my favorite), plus a raucous cover of AC/DC standard "Whole Lotta Rosie," which vocalist Andy Pindelski howled into his mic with a particularly venomous Bon Scott approximation.
...
...
Previously, I referred to Something is Waiting as 'noise rock,' but that might not be the best descriptor. I've seen this band multiple times, heard all their records, and I still struggle with a succinct phrase to summarize them. Mostly ironic sleaze rock? Stadium-ready sludge anthems? Whatever it is, it translates excellently live, with vocalist Eddie Gobbo (Jar'd Loose, The Muzzler) dominating the stage and a brutally captivating rhythm section behind him -- this time the band was in a three-piece configuration, but guitarist William Thomas Fay's monstrous, dialed-in tone provides plenty of low-end vitriol to keep up with drummer Idin Alexzander's super-tight timekeeping.
Gobbo's snarled lyrics chart a mixture of modern-day absurdities, self-deprecating realities, and generally funny-and-or-fucked-up subject matter, and this plus his exacting, high-pitched snarls contrast vividly with the rest of the band's sonic sludgy morass. This is a band that I will always point to as an example of how Chicago's heavy music scene stays consistently, exhilaratingly weird, and putting them on stage with a stoner rock band and die-hard thrashers just somehow makes sense here.
...
...
That trend of staying strange and unpredictable is set to continue tonight at Forever Deaf Fest Night One, with Sweet Cobra and Ready for Death (who we recently covered here) headlining. Tickets can be purchased here.
See more photos below:
...
Forever Deaf Fest 4 Pre-Party 1-19-2023
More From Invisible Oranges