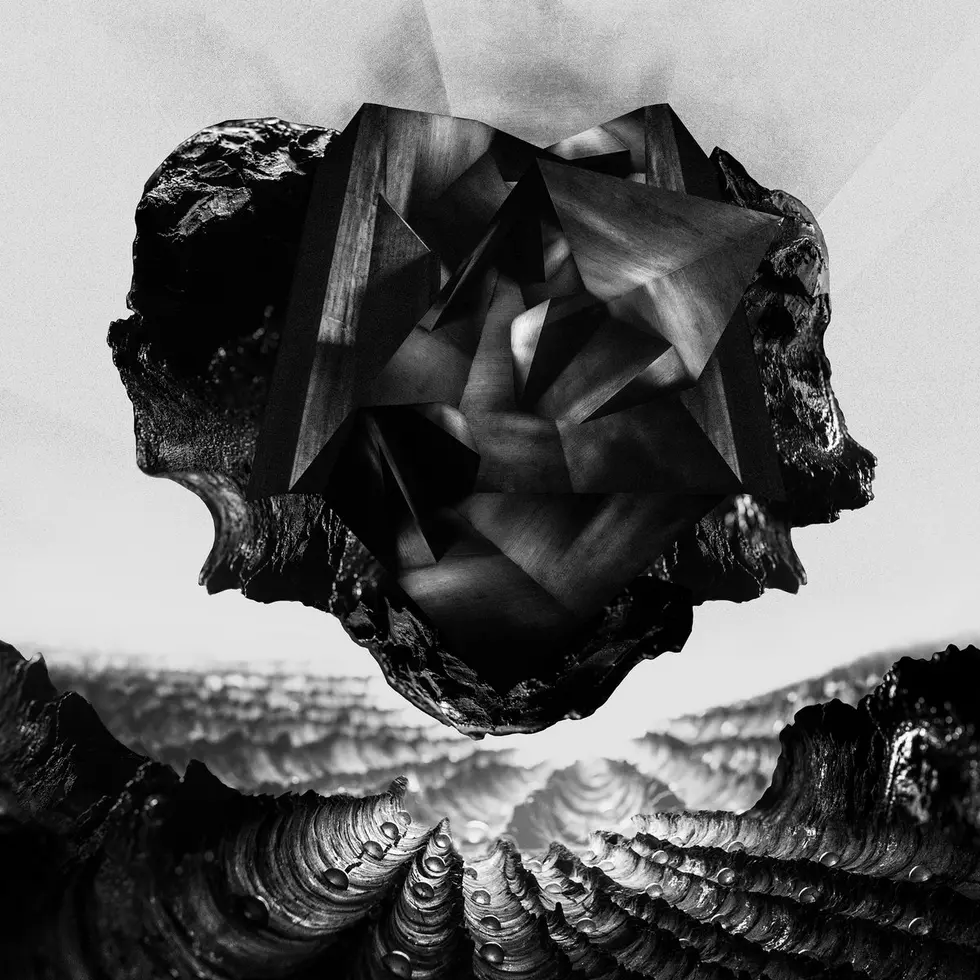 Farer Carves an Oppressive Singularity: "Monad" (Early Album Stream)
---
A monad is a single, indivisible element -- something that cannot be reduced to any smaller set of components. Technically speaking, Monad the album, the product of Dutch doom/noise pioneers Farer (previously known as Mehnir), can be reduced: it's formed from four tracks crafted by drums, bass, vocals, more bass, and howling torrents of noise. But the unification of these elements, laid out together in a full 50-minute package, creates a singular, unbreakable vision of crystallized misery. Monad's chaotic power is undeniable, and we're streaming the entire thing now ahead of its Friday release.
As soon as the opening track "Phanes" kicks off, layers of harsh noise and tectonic rumble prick at your consciousness, but the painful stings come further barbed with with post-punk-ish sludge riffs and clean/harsh vocal tradeoffs aimed more at creating atmosphere than formulaic verses and choruses. These are lengthy songs, true, but they feel almost too short to express the titanic concepts that the weighty layers of drum and bass sketch out.
Farer uses abrasive noise as a tool of immersion: the impersonal, machine-like tonalities that span the album erode mental defenses and create cracks for their emotionally-charged dirges to ooze through. When the album starts, having only the bleak monochromatic album art and the introductory hisses as context, Monad seems just as bleak and cruel as the sharp-edged structure on the cover. As the album progresses, however, hidden warmth and depth reveal themselves: a fire burning within the flinty heart, perhaps, expressed through brassy atmospheric tinges and warmer bass tones joining the fray.
Rhythm, the timekeeper, holds sonic dominion, painstakingly tracking these bitter traversals across soundscapes as intimate as they are desolate. There's no guitar here, just bass. You won't miss it: by the time the final track "Elpis" completely faded out, I'd forgotten that higher octaves even existed.
When we took Farer as our new moniker mid 2019, after spending two and a half years of writing and recording our debut record Monad. We felt reinvigorated. As Menhir, each recording we made was a step forward but with Monad it really felt (and still feels) like a big leap. We finally took the time to further explore the possibilities of being a band with two bass players and the absence of a guitar. We couldn't pick a better time to change our name because the record exhibits an evolution into a new entity thoroughly.

Initially we planned on releasing Monad in the beginning of 2020. But then Covid-19 disrupted all of our lives in ways we still can't imagine. Everything was put on hold, and for a time we were thinking of postponing the release until after the pandemic. In hindsight, a bit naive, because now we all know it is still far from over. We strongly believe that a recording is always a representation of a fixed time and place in our lives, so as time grew by we realised that the longer we waited, the further the record was moving away from us. The initial excitement slowly went away and was replaced by the drag of an idle product gathering dust.

Working on new material after that was difficult. We could not really look back and reflect on Monad because in a way it wasn't really finished. We started realising that Covid-19 maybe just was an excuse, instead of the reason, for not releasing our debut. After that we slowly found our way back to the record. We started flirting with the idea of a release, got back in touch with labels and finished up some loose ends. Our anticipation grew like wildfire. Reanimation.

And here are we now, more than proud to let you know that on November 20th Monad will be released on CD through Aesthetic Death and on cassette by Tartarus Records. We couldn't be more fortunate.
---
More From Invisible Oranges