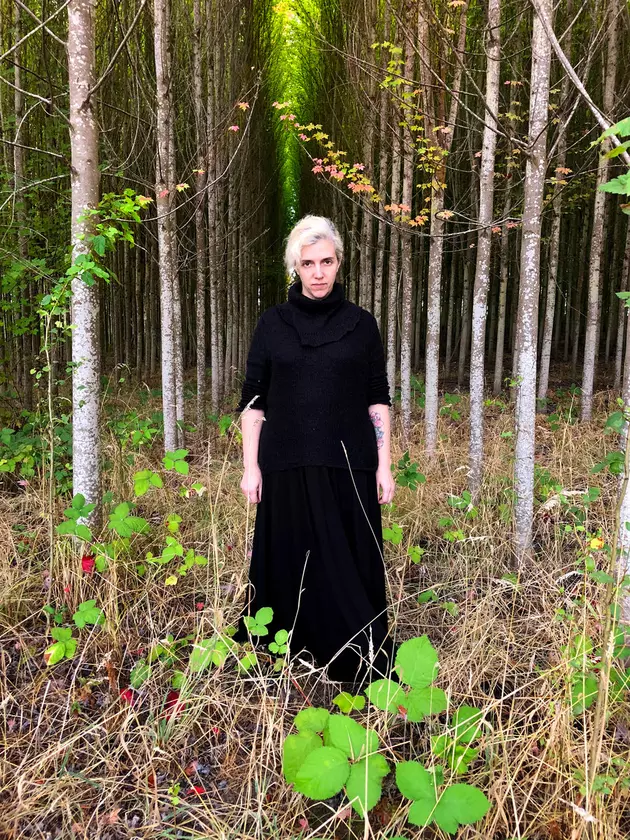 Erin Jane Laroue Talks "Chalant," Her Debut Solo Release Spanning Two Decades of Unreleased Songwriting
Erin Jane Laroue's debut full-length Chalant, a minimalist and dark multi-instrumentalist masterwork, not only moved me as music, but its story also inspired me to wonder: how many more people exist who've written incredible songs but just haven't released or performed them?
Perhaps no music-related thought is more exciting than the prospect of unheard gems sparkling with the radiance of forgotten or lost times -- music, as art, will always mystify us no matter how hard we try to find, decode, and catalog it all. There will always be that lingering knowledge that, sometimes, music will find you and not the other way around (it's up to the individual whether there's any ultimate purpose or meaning behind happenstance). What really matters is that the art comes from a genuine place within another human being and retains the ability to excite the genuine emotions of another. Chalant accomplishes this, for sure, but with a distinction: these seven songs were written at different times in Laroue's life, as far back as the mid-1990s. Rarely do we get such a longitudinal view of an artist in such a distilled format, with such bare emotionality to boot.
Chalant, therefore, is truly a narrative album, an era's worth of life-story told not just with words but also sounds -- from the somber piano under Laroue's fingers to the sad beauty of her warm voice, this music captures the confidence of a talented artist up against time itself, the anxiety of the unknown, and even the tearful terror of possible defeat. Actually, plainly speaking, Chalant can sometimes be a really difficult listen: the sheer degree of its expression and its subtly devastating delivery could extinguish the sun if aimed correctly. Edgar Allen Poe is actually the perfect analogue here, and it's no surprise that Poe eventually became inspirational for Laroue which then helped shape Chalant in many ways.
And this is where Chalant intersects with metal's ethos -- indeed, Laroue has supported Mike Scheidt (YOB), SubRosa (at Roadburn), Peter Verwimp (Emptiness), and so much more -- but it's that Poe-ness which helps situate the album in a realm where confronting such powerful emotional forces is the modus operandi. Doom metal seems like an appropriate fit, but Chalant's naked honesty and vivid clarity take it far beyond doom's trappings. Laroue may summon that which evokes a sense of doom, but it's one delicately tinged with the feeling that the artist is understanding herself through the musical process. This quality alone thoroughly enhances Chalant, which says nothing about the creatively minimalist atmosphere and steadfast instrumentation which make it such an engaging -- and devastating -- listen.
To learn more about Chalent, we chatted with Laroue about what went into the album, and how far back some of these songs go in her life. If you're in Portland next weekend, be sure to check out Laroue's album release show at The Lovecraft Bar on Saturday, June 27th.
I read that Chalant contains music you wrote long ago, as far back as the 1990s – did you feel the need to bring any of that older music "up to speed," so to speak, whether musically or emotionally or both?
The songs evolved on their own naturally because I had never recorded them or put them into a fixed composition/state. They have evolved with me emotionally and have been affected by other music that I've found inspiring. Kind of like adding seasonings to a stew over a long period of time. Or like a garden. You can plant a garden but it takes a long time for certain types of plants to establish themselves. An oak tree that's weathered storms is different from a sapling, but they're still the same kind of tree.
How much of Chalant is "new" versus "old"? This question could also apply to you, personally: what significance does the past hold for you, in the context of the present, and what's your philosophy for "living in the now" vis-à-vis music?
"Uno" is 24 years old. It's the first real song I ever composed. It's an instrumental classical piece inspired by Debussy, Pachelbel, Vivaldi, Satie, etc.
"Equinox" started to form around the same time when I lived in a cabin I built in the woods on my parents' property in Massachusetts. It was originally just an instrumental piece that I developed lyrics for over time. It's the only song on the album that I recorded parts for at home, because of the vision I had for the dreamy vocals. This song was inspired by the time I went to visit a place called Hildene. It's a house that Mary Todd Lincoln owned in Manchester, Vermont that's near the Equinox Mountain. I went there with my family as a young teenager and the owners of the house let me play their piano.
"Z" I wrote in 1998 at a time when I had my faith in everything crushed. Then I realized that I was able to move forward having a completely new idea of how I was going to approach life with my heart and my spirituality.
"Only the Sea Goes On" was written in the early 2000s. I finished the last bridge after watching the film Bird of Paradise (1951) about five years ago.
"Alone" is five years old. It came out of a stint I had performing at the Poe Show, an annual celebration of Edgar Allan Poe's life, which occurs in Portland. Growing up in New England, I didn't get into Poe much. It was later in my life when I started investigating him that I discovered how much I appreciate his poetry. I have written several songs based on Poe's verse, but I placed this song on my album specifically because I wanted to open the record at the beginning of my life and these words captured what it's like to be a strange child that is misunderstood. A lot of the imagery I relate to, the darkness, the storms, and how these things can actually be exciting.
"The Future is Au Revoir" is also just over five years old. That concept stemmed from an ongoing pattern of people in my life who were really struggling with depression and darkness and my desire to help them feel okay -- not by undermining the reality of the darkness, but by giving it a purpose. I had started meditating a lot and going to Buddhist monasteries. That experience really illuminated, in my music, the duality between the light and the dark.
"Triumph" is the newest song on the album, inspired by the metal music scene that I've been spending a lot of time in, and the positivity I feel in that community.
What special significance did you discover in Edgar Allen Poe? You interpreted "Alone" to start the new album – I think while many are semi-familiar with Poe's style, there are deeper complexities to his writing, some of which you may have intended to illustrate later in the album?
That wasn't an intention. I came upon Poe so surprisingly late. I had read his stories in school but I had never read his poetry until the last five years. I realized, wow, his imagery and his choice of phrasing and vocabulary, I really resonated with this. I want to make music for every one of his poems. But I wanted to start the album with "Alone" because that's how you start a story, at the beginning. It wasn't so much that Poe's themes had influenced me earlier. I found him later and he fit into the album. Poe and Lovecraft are things I avoided until recently because they were too obvious to me (having grown up near Providence, Rhode Island).
You accomplished a lot as a musician before finally releasing a full album under your name. Could you give us a slice of your "life story" which might intersect with the moment you realized it was time to compose and release Chalant?
The first step was my sister and I starting a project together called Jamais Jamais. She first came to visit Portland, and then moved here. Being in a band pushed me to start arranging and completing songs and gain confidence in that area. Then we began performing together. That happened shortly after my dad's death. Right before he died he really pushed me to share my music with the rest of the world and perform. We had seen a lot of concerts together and he was really supportive of me and my music. The community in Portland has really inspired me. I've been invited to play with all different types of bands and artists. From folk music and electronic and doom, black metal, people from all kinds of genres seem to resonate with the darkness of my music.
How would you describe the synergy (or juxtaposition) between your voice and the music on Chalant? To me, both exude a delicately somber and sad beauty, but the music is more minimalist in presentation than the rich dynamics of your voice.
I originally envisioned that my voice would be in the background. I started out writing instrumental music. I wasn't very confident about my voice. However performing and singing live over the last few years, and people's response to my voice, shifted vocals to being more prevalent on the album. My producer Dave Fulton had a lot to do with that too. And my voice has gotten stronger over the years.
Are you trained professionally as a singer, and when did you start? Has singing ever presented challenges that you had to overcome, emotionally and/or physically at all?
I am not trained professionally although I sang in school choirs and folk church masses as a kid. I like the quality of my voice when it's quiet. I like to play my music softly so you can hear the voice. The more I perform, the stronger my voice gets.
I did grow up in a household with a mother who was always singing harmonies along with Yes, Moody Blues, Crosby Stills Nash, and Young. All those kinds of harmonies. That was a huge influence on my vocal style.
While Chalant is not heavy metal, it most definitely echoes some of metal's dark and expansive ethos. Do you feel that the album exudes a "metal spirit" at any point, for lack of a better phrase, or are you more genre-agnostic toward it?
The way that I feel it is relatable to metal is in the way that metal is very triumphant. I had listened to metal a lot in junior high and high school and hadn't listened to it for a while. I became friends with a lot of people in the metal scene in Portland in recent years and I realized that the thing I related to was the triumph over darkness. A lot of the performances I was seeing stimulated me, particularly artists like YOB, Holy Grove, SubRosa, Tribulation, Dreadnought, Chelsea Wolfe, Agalloch, Judas Priest, and Voivod. These are all bands I've seen live and was moved by.
You mentioned that your father, before he passed, urged you to perform your music live. How did that feel and/or impact the path you eventually took toward today?
Two months before he passed away from cancer we went on a sailing trip together to the Caribbean. There was one day when we went off by ourselves to go snorkeling with sea turtles. He was telling me all the things he wanted to say to me before he passed. One of them was, "Erin, you need to share your music with the world. It's something that you enjoy receiving so you should also give it. Don't be afraid of what people would think or showing that part of yourself." I said, "Okay. I'll do it." That was in February of 2013. In November of that same year, I played my original music live for the first time. It was my 40th birthday. Since then, I've lost count of the shows I've played in various bands and as a solo artist. Now I get excited about it. I still get a little nervous, but I really enjoy playing live and feel like I get a lot of joy out of performing my music for people.
More From Invisible Oranges