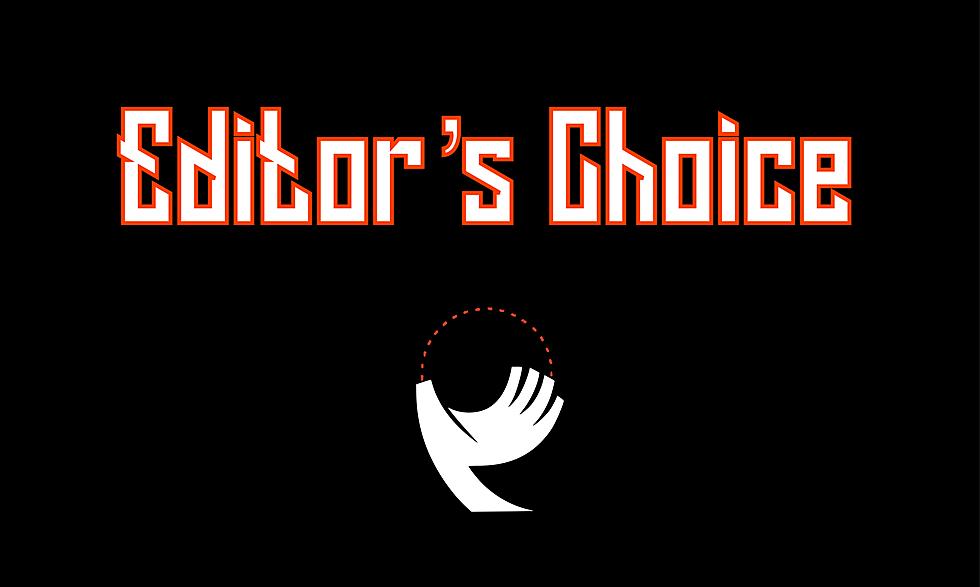 Editor's Choice #2: Two Musical Chameleons
---
While our original goal this year was to do our Co-Editors' Choice column monthly, in light of the fact that we entirely forgot to do one in February, we're going to tweak our goal a bit. Let's go with "mostly monthly" -- say, in all months with more than 28 days?
The theme this month is "change," and, since this is a music blog, we mean change in the context of musical groups, not our self-determined publication schedule. The deltas between a band's past release and their latest one are always a large focus in coverage -- and that makes sense, since those shifts and evolutions are what sets the new work apart. However, in criticism there's a tendency to be conservative here: significant changes are attributed to selling out, losing focus, or creative bankruptcy, so much so that a band changing its sound and still being "good" is lauded as a surprise.
While there are some changes in direction (Cold Lake, anyone?) that were definitely ill-informed and generally disastrous, many "new eras" of bands simply don't get their deserved acclaim due to nostalgia or being held up to unrepeatable innovations as a standard. It's not Tony Martin Black Sabbath's fault that the Ozzy-era albums defined the damn genre, so go listen to Headless Cross!
Below, Jon and I discuss two of our picks for bands that have wielded change as a weapon for growth, often facing an uphill battle in the process.
...
Ted Nubel
Elder
My introduction to Elder was their self-titled full-length, which was epic-feeling stoner doom, and progressive only in the sense that it was interesting and unique in a time when much of the genre was… not. Songs like "Hexe" take the pentatonic riff to its crunchiest and grooviest potential, and "Riddle of Steel Pt. 1 / Pt. 2" channeled a battle-doom spirit that would, by other bands, be molded into ridiculously heavy stuff.
...
...
That wasn't the route that Elder took, though, instead incorporating more and more progressive rock and Krautrock influences over the years. Dead Roots Stirring was still stoner rock for sure, but expansively atmospheric and hinting at the thoughtful influences that ran below it like waiting undertow. Cleaner vocals and cleaner tones offered a dynamic journey through the realms of riff rock like not much else, so it's pretty easy to see why this one tends to be a fan favorite. Lore only continued this evolution, and Reflections of a Floating World introduced the most blatant progressive rock segments yet -- "heavy Yes" was now a valid way of describing a band that had, just over ten years earlier, debuted on a split with the shamanistic and surreal experimental stoner group Queen Elephantine. It wasn't really surprising in the big picture, even if you couldn't have predicted the exact shape of things: from day one, Elder was always weird, and ten years' worth of growth has yielded much stranger developments in the history of heavy metal.
Then, last year, we got Omens, which wasn't so much a further shift from Reflections of a Floating World as it was a full-bodied development of it. Synthesizers and other, non-fuzz textures take their rightful place in Elder's sound -- there's always been some of that around, but really step into their own here. Langdon Hickman summed Omens up excellently in his review, noting that "[this album's sound] is a type of music that, when done right, becomes the lifesblood of many a band's career, with numerous groups within the canon of prog, psychedelia, and space-rock living comfortably within these halls for decades." Elder could stay in this space, or they could also continue on their journey -- signs point towards the latter.
Unsurprisingly, this is a point of contention. Fans, depending on their tastes, want more of Dead Roots Stirring, or they want more Lore -- they don't want some new unknown. That ship has sailed, though, and other artists are now exploring the fertile grounds seeded by progressive rock and stoner doom. I sympathize with wanting more Lore, believe me, but Elder is no longer the vehicle for that.
...
Jon Rosenthal
Beyond Dawn
[Editor's Note: for brevity's sake, compilations will not be discussed.]
Generally speaking, when people think "chameleonic Norwegians," Ulver comes to mind, and that is perfectly fine. However, there is another. Beyond Dawn sat quietly in the underground for a long time -- until their (disputed) demise in the 2000s -- ever-seeking the progressive vein which ties death/doom metal to pure electronic music in a bizarre evolution. Featuring members of the legendary Virus and the obscure, but very enjoyable Two Trains, Beyond Dawn were, at their impetus, outcasts in the Norwegian scene.
...
...
From their early demos (especially the Longing for Scarlet Days release, which is technically an EP) through their debut Pity Love, Beyond Dawn was a death/doom metal band, sort of. Featuring odd, electronic loops, prominent brass accompaniment, and a varied, emotive vocal performance by dual attack Tore Gjedrem and Espen Ingierd, first-era Beyond Dawn lasted well over half a decade, the longest amount of time the band dedicated to a single sound (though it would eventually deconstruct over time, as evidenced by Pity Love's adventurous nature). Soundwise, Pity Love followed in the Peaceville 3's footsteps, especially My Dying Bride, but with Beyond Dawn's own experimental bent, which adds to the emotive nature of their music. Heavy, but still thoughtful, the melodic and progressive Pity Love (and Longing for Scarlet Days, which should see a vinyl release on drummer/multi-instrumentalist Einar Sjursø's Duplicate Records imprint this Spring) left an underground mark on death/doom, but, more importantly, it truly set Beyond Dawn's bizarre career in motion.
...
...
Revelry, Beyond Dawn's sophomore effort, reared its head just three years later, and, in doing so, revealed the band's new sound. Though Encyclopaedia Metallum refers to this era as "Metal/Alternative/Gothic Rock," whatever that means, this album's true source is obvious: Swans, and, more importantly, The Burning World-era Swans. There is a folky aspect to this album's impenetrably dark rock which just screams "Michael Gira!" Hell, more than a few vocal passages sound like his deep, rich baritone. Is it bad that Beyond Dawn suddenly pivoted to sounding like a Swans contemporary? Not exactly, mostly because what was already a niche market in the United States was even more infinitesimal in Norway, and, beyond that, it's not like Beyond Dawn were shameless. The music's bizarre nature, something which would follow Sjursø to Virus (and even, for a brief spell, Ved Buens Ende, when the band first reformed in 2006), sets Beyond Dawn apart from their influences. Strange chords, unexpected melodies, lots of brass, and a distinctly Norwegian despondency makes Beyond Dawn more than just a Swans or Peaceville worship band.
...
...
A stop-gap between evolutionary points is a dual album In Reverie, an "unplugged" album, and Electric Sulking Machine, a "rock" album, which followed just a year later. A beautiful album of minimal songwriting and textures, In Reverie is inextricably connected to its predecessor, essentially taking the dark gothic folk rock of Revelry and presenting it in as skeletal a form as possible. I don't want to write this album off as "the unplugged version of another album" because In Reverie is definitely more than that in the Beyond Dawn oeuvre, but in the context of "change" and "evolution," this one isn't much more than taking the distortion away from the guitars and Sjursø favoring hand drums and delicate electronics over his drum kit. Placing more importance on the sadness over the strangeness found in what can now be called the "Beyond Dawn sound," In Reverie zeros in on a single aspect of the Beyond Dawn sound and blows it up.
...
...
Electric Sulking Machine, which was released around the same time, goes into familiar territory, but with a freer sort of uninhibited nature guiding it. Jangling and morose, this album is "the other half" of Beyond Dawn. That is to say, Electric Sulking Machine moves Beyond Dawn forward without the heavy sadness which defined Revelry, and even In Reverie. I find myself listening to this one more than In Reverie if simply because it sounds more like Beyond Dawn while still being inherently different from its predecessors. Falling into almost a slowcore type of vibe, Electric Sulking Machine is a far cry from Pity Love and Revelry's heaviness (note the cleaner and not-as-bass-heavy sound here), and there are shades of the electronic music to come (note Sjursø's [acoustic] use of the Amen Break toward the end of "Addictions Are Private"). With Peaceville Records' recent bout of "obscurities repressings," this writer hopes for this album to receive a nice vinyl pressing. Finally.
...
...
From Frysh onward, we find Beyond Dawn's final form: a general sound which would follow them to their demise. Now calling their music traumatic electro rock, the electronic minimalism-meets-alternative rock which defined Beyond Dawn on this album (and discography-closing follow up We're Down with Species of Any Kind, a remix album) is hypnotic and, as is the case with every Beyond Dawn release, sad. The head-bobbing, foot-tapping pulsations found on these two albums can draw comparisons to big-budget bands like Interpol, or even Editors., but Beyond Dawn still toiled in obscurity until eventually fizzling out without any sort of full announcement of their disbanding sometime in the 2000s.
...
...
What makes bands like Beyond Dawn (and Elder) so special is their strong sense of identity, something which follows them throughout a sonically-vast discography. What defines Beyond Dawn? A feeling, mostly. When listening to this band, there is an overarching, deep sadness which pervades each (very) different album. Does Frysh sound anything like Pity Love or even Revelry? Not a chance. In fact, they could be made by different bands, though Beyond Dawn boasted a mostly stable lineup from 1990 through the mid-to-late 2000s. The emotive nature of their music, not genre, is ultimately what defines them, and that's what makes bands like Beyond Dawn so immensely special. The music world can learn a thing or two from Beyond Dawn about untethering from expectation or genre. Do yourself a favor and listen through the Beyond Dawn discography, there is bound to be an album, or even just a song, for you.
...
More From Invisible Oranges