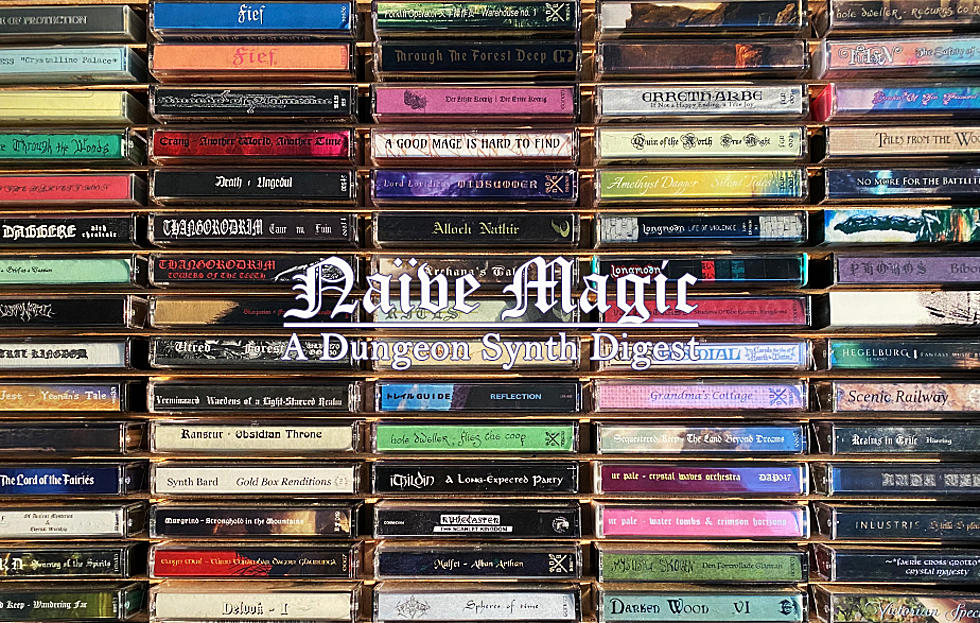 Naïve Magic: A Dungeon Synth Digest #7: New Releases
Image Credit: Jonathan Carbon
---
Dungeon synth moves at an incredible pace. It can be overwhelming to try and keep up with the amount of new releases, even when only focusing on high profile labels. This prolific output can also be very charming in that one may look away for a few months and then come back to two or ten new releases from their favorite artist. I began this dungeon synth digest as a way to keep up with new releases and this time, instead of doing a theme or a special article, I am devoting space to just catching up on the releases that have piled up on my desk. This digest will continue to explore the many facets of dungeon synth but first we have to get through all of these new releases.
...
Fableglade Records has been putting out fantastic music since 2020. Every quarter this label releases a series of tapes from mostly new or lesser known artists that often skirt the very definition of dungeon synth. Neofolk, ambient, and experimental all inhabit the world of Fableglade, and to most loyal members these series have been a source of discovery and happiness. The Autumn bundle from Fableglade was recently released with tapes from Draconic Regicide, Verdant, Abysa, Black Epheria, and finally the Canadian artist Sprites of the Wood. Faeries I from Sprites of the Wood is a 2020 release, which was released on tape in 2021. The record uses forest ambient and symphonic melodies to explore the nature of faeries and the mystical qualities of woodland enchantments. While dungeon synth can sometimes be dreary and oppressive it can also be blinding with its radiance. In the spirit of artists like Erang, Sprites of the Wood captures that mystical bedroom quality, which brings the listener to many places beyond their own walls.
...
I was not aware of this release until putting together a small vote on Reddit's r/dungeonsynth regarding the top releases of dungeon synth in 2021. Mahr G'Didj is from the US and for three albums they have been crafting an outlier style of dungeon synth that merges comfy synth, video game music, and off-kilter electronic sounds into a pastiche of wonder and delight. Crane & Crescent Pt. 3 : Fate's Bottomless Well, E'er Churn her Waters is the third installment of the Crane and Crescent series, which began in August of last year. These releases only saw nominal attention with this last one being the most popular of the series. This three part trilogy concerns itself with the Lore of Iduin created by someone named David R.R. Vance. At the time of writing this, I could find nothing about the story nor writer, which makes this whole endeavor even more mysterious. What we are left with are three dungeon synth records brimming with creativity. At this point, I have no idea where Mahr G'Didj is going and what they are about to do, as the artist is a gleeful driver on a boat that is heading into unknown territory while they cackle maniacally.
...
Old School or classic dungeon synth is not only a time period for the style, but also a style that evokes a time period. Return of the Ancients is a fitting title, since US based Mirthquell uses this historic style to paint a landscape of a time long past. While this artist only has one debut to their name, the craft and care that comes to Return of the Ancients speaks of a creator who has a strong knowledge of the historic style. Mirthquell is a creator who also goes under the name the Labyrinthian Tyrant, and utilizes a sound that invokes acts like Depressive Silence, Mortiis, and Solanum. Mirthquell remembers a time when dungeon synth was solemn and fully steeped in mystery, and this mood resonates in a release that is dour in its appearance yet is entirely excited for the possibilities that could lay ahead. Mirthquell channels two realms of time by not only harkening back to the days of yore with its sound but also making it entirely relevant for 2021.
...
Neverwood Records has always been special to me. I remember getting such releases from Chanterelle, A Good Mage Is Hard To Find, and Covered Bridges and thinking that this label was perhaps run by pixies. Following a slight pause in the summer of 2021, the last few months for Neverwood have been magical, with an outpouring of enchanted tapes from Empyrean Woods, Moonboil, and Divinafollia.. Taor Belkor is a Polish artist who is experimenting, with much success, through chip and experimental music. Portal is the first demo for the artist and, oddly enough, sounds like a complete and realized sound. Firmly rooted in the themes of fantasy with both a sense of sadness and optimistic resolve, Portal shows a firm foundation for an artist who has a whole magical realm to experiment on.
...
The experience of listening to Battle Chamber is wonderful, as you are first greeted by a low key chip dungeon synth act, which then leads you into the weird world of the Unmapped Zones label. Unmapped Zones is a laboratory of weird and leftfield ambient and experimental and also the place where Battle Chamber hails from. The self titled debut from Battle Chamber is a perfect gateway drug into the rest of Unmapped Zones discography. Much like an Atari adventure game, the self-titled album Battle Chamber is the sound of a computer game being played on a rainy day in between reading comic books. It is both raw and unrefined and still has edges of utter magic. The tape for Battle Chamber comes from the very venerable Moonworshipper Records, which always seems to be hanging around and associated with anything weird coming out. They are in good company as this weird sound is home to me and others who share the same interest.
...
I actually do not have time to fully get into crypt hop now as it would take way too long to explain. To be brief, there is a fascinating confederation of horror rap, dungeon synth, phonk, and dark ambient that creeps around the edges of Bandcamp and Soundcloud. DCCCVIII is the work of dungeon synth / black metal artist Elminster, and they have dedicated Spellfire In The Booth to the "fans of dungeon synth, hip hop, Digga D, and Pop Smoke." This bizarre combination may be a surprise to some and a confirmation of a future for others. With both lo-fi hip hop beats and dungeon synth samples, DCCCVIII is evidence in the continual creep of crypt hop into a future where it sits at the table of other horror sounds. For now, enjoy the sounds of the crypt and the chill party that is raging inside that you now have an invitation to enter.
...
It was difficult to pick a new release from Vicious Mockery each article, as each time this label drops new releases, there is a batch of wonderful material. If I could make a suggestion, it would be to listen to everything this label has released, as they are always surprising in the direction they take. Grim Father is a US based artist who chooses dungeon synth as a portal to mystical and dangerous lands. Rather than resting on low key ambience, Endless takes an adventurous approach to making music and crafts dynamic lo fi landscapes, which take the listeners to peaks of craggy mountains and to the depths of dark and iridescent caverns. The sound of Grim Father not only incorporates the expected medieval sound of dungeon synth, but often lapses into neoclassical and Berlin School electronics. This tour around the universe includes not only the music but also lengthy descriptions of each of the tracks that makes the experience an immersive, if not oddly abstract, journey. In the tradition of Fen Walker, Scrying Glass, Hole Dweller and other progressive dungeon synth artists, Grim Father takes travel logs in places that may exist outside of this time and space, and these releases are their notations from another world.
...
If there is anyone who I think could hold a discussion on esoteric philosophy it would be Maiden Hair. I have discussed this artist in the past due to their phenomenal 2020 split with Portcullis, as well as their 2021 dark ambient / radio drama presentation Ancient Borders. Maiden Hair has always concerned themselves with the strange and supernatural, and the most recent release Trewanmead finds the artist at their most focused. Using sounds of classic dungeon synth, Trewanmead continues the theme or story found in Ancient Borders, which details a mystic wedding between a tree and meadow and ends in the coming of a dark adversary known as "The Terrible." This story of Trewanmead lingers around both present and past releases from the artist and makes the experience of listening to their releases an esoteric investigation where the listener is peicsing together an investigation on the occult.
...
Wrought Records have released some stellar material over the past few years including Warm Smial, Redhorn Gate, and Eldritch Wizardry. Ghulin fits into the catalog of Wrought Records in so much as they are another misfit incorporated into a league of misfits. Styled after lo fi chip music, Overlands is the second release from Ghulin and it is catered to a very specific audience. Imagine the sounds from a Nintnedo adventure game on the pause menu, but you are hearing it from another room. If that sort of thing is exciting, then the world of Ghulin and the rainy day ambience of mornings spent inside is going to be for you. The craft and care that comes with doing a project like this is evident, as Ghulin has all the enthusiasm and joy that comes with spending days inside reading strategy guides to get treasure.
...
This is perhaps the weirdest thing I found in the last few months. While there exists a plethora of raw noise on the edges of dungeon synth, there were few that were this catchy. With the aesthetics of a punk rock house show and the devotion to lo fi psychedelic nightmares, Hauntefaerie exists outside the sphere of many genres like a specter that floats just out of reach. I have already professed my love for low fidelity and anything weird many times and A Spectral Soiree for the Faeries and Goblins is perfect for the coming Halloween season, where one can dress in a trash bag and run down the street yelling for candy. Hauntefaerie's use of raw synth combined with an upbeat joyful mood makes the release a combination that is both infectious and unnerving. Happy Holidays and feel free to celebrate as long as you like here, as you can be weird all year if you want to.
...
More From Invisible Oranges