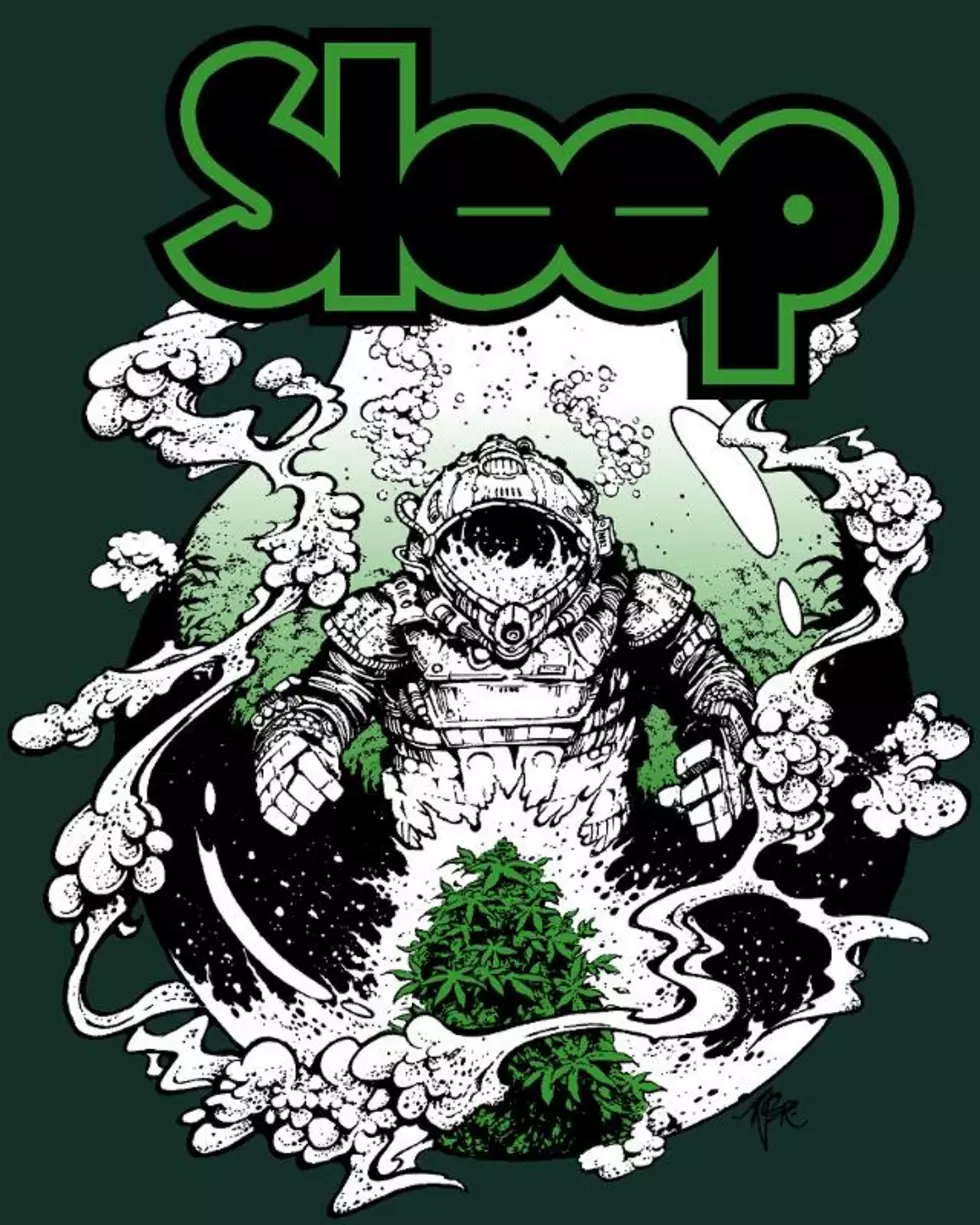 ...
Fans of stoner and drone metal are in for a real treat—doom legends Sleep are headlining shows in two cities where recreational marijuana use is legal, on 4/19 and 4/20. This mini-tour will occur this weekend to coincide with a day that marijuana enthusiasts celebrate—in light of that, it seems like a good time to reflect on where weed and metal stand in relationship to one another right now.
This past year has seen more strides for the legalization of marijuana in The United States than any other. Weed is now medically and recreationally legal in Colorado, Washington, Alaska, and Oregon, with California predicted to follow suit this coming November. This huge increase in states that allow legal use of cannabis coincides with an upswing in the popularity of doom and stoner metal across the board. There have been a plethora of stoner-themed tours this year, from the aforementioned Sleep tour to a run by Weedeater and King Parrot sponsored by Metal Injection. Many bands in the sub-genre are also starting to receive attention in the mainstream as well as the pothead press. This marriage between cannabis culture and underground metal has always been around, but is now in the wake of cannabis legalization, doors are opening to a whole new world of possibilities for collaboration and cross-promotion between the two subcultures.
Doom remains one of the more accessible metal subgenres, due to the fact that a lot of it basically just sounds like Black Sabbath, who actually get played on many mainstream classic rock stations and are loved by metalheads and non-metalheads alike. As such, those who aren't huge metal fans but still have an open mind about music are more likely to get on board as casual fans of these groups. Likewise, doom in particular has been espousing the virtues of marijuana culture almost from the word "go." Black Sabbath forged the first link between marijuana and doomy metal when they wrote "Sweet Leaf" as an ode to the plant. In their wake came bands like Sleep writing songs, and even entire albums, about their preference for ganja.
Now, in addition to doom bands promoting weed, weed outlets have begun promoting doom as well. As a writer in both the weed and metal industries, I have been seeing this pairing more and more. Weedeater were featured in the March 2015 issue of Culture, the cannabis magazine I contribute to, which usually steers clear of the more obscure, underground acts to instead focus on more mainstream musicians and actors. In that interview, bassist and singer Dave Collins commented on the new situation with legal cannabis in some states, saying, "Yes, and it's a little different when you're there, in a trippy good way. I just don't get the ridiculousness of the laws, and how you can't travel between states. But like anywhere else these places have spots to find good weed or if you know the right folks who have the good strains."
The song "The Line" by Royal Thunder, the female-fronted heavy rock band who have been getting so much attention in the metal world, was first previewed on the High Times website, and profiles of stoner bands are popping up more and more in cannabis news outlets.
The legalization of marijuana in states like Washington and Colorado has encouraged doom musicians to advocate for marijuana in interviews as well as music. When I interviewed Grant Netzorg of In the Company of Serpents two months ago for Metal Rules, he very eloquently articulated his stance on cannabis use, advocating the benefits of the plant as well as its place in metal culture:
"We're pro-weed. Obviously Colorado is a great place to be for that, and I hope to see more of the prohibition dominoes fall in the near future across the country. Some of the regulation surrounding it can seem invasive and coddling, but such is the peril of blazing a new trail. We've always had a great response to the weed-centric merch we offer, and will continue to put out stuff in that vein. We're of the mind that thinking adults can do with their bodies what they please, particularly if that means ingesting a substance which harms no one and positively affects one's life. Moralistic arguments to the contrary are wreathed in flawed logic, fear, and the language of propaganda."
I believe that goes for many of the bands in the metal scene who are also big advocates and supporters of marijuana. For years, marijuana has been associated with metal and hip hop, as well as the psych and improv-rock scenes, which originated in the 60s and share common roots with doom, but always in a sort of negative, law breaking way. Finally, this connotation is being turned around.
This shift toward wider friendliness toward marijuana, and then doom by proxy, doesn't just manifest in tours and quotes. It also shows up in material culture. Netzorg mentioned his marijuana-themed march, and he's not an innovator on that front. In the Company of Serpents make high quality vaporizer pens, grinders, and bowls. Other subgenres and bands have been cashing in on this too; Chuck Billy of Testament made his own line of vape pens, and Origin make bowls with their logo printed on them. Cephalic Carnage, not to be outdone, also make a full sized vaporizer.
Additionally, bands aren't stopping just with making merch that can be used to smoke weed. Sleep make all kinds of fun and stoner-influenced merchandise, from pillows with their logo and pot leaves as decoration, to snowboards, and imagery of pot leaves turning into spaceships on shirts and patches. Weedeater have also gotten creative with stoner merch, making everything from shirts with pot leaves and other paraphernalia to their own brand of hot sauce to be used in case of a munchies attack. And Electric Wizard's whole stage show focuses around weed or visuals that appeal to those who are stoned—their most recent tour's visualizations ranged from a psychedelic image of the demon from the cover of Dopethrone looking like he is smoking, to 70s film footage of biker gangs smoking joints, to trippy patterns of lights, colors, and naked women.
In light of the way marketing is headed, this makes so much sense as a business technique, and could be the launching pad for some metal bands to achieve wider exposure without modifying their sound for mainstream media outlets. Reggae has always had a huge tie to the world of cannabis due to Rastafarianism and the religious connection, and as such it has always been a hugely marketable genre. Think about how many times you've seen a Bob Marley shirt with a pot leaf, a Jamaican flag colored bong, or a poster with a lion, a reggae singer, and some kind of weed reference, even if you hate reggae and don't seek out this kind of imagery. Rap has already done the same thing, and as weed is getting legalized the connection is becoming even tighter - you have rappers sponsoring blunt raps and rolling papers, or naming strains of cannabis. This type of merchandising and pairing is now starting to be seen more and more from stoner doom bands.
Weed and metal have always been bedfellows, and as marijuana legalization spreads in America, we can expect to see the endorsements and partnerships roll in. All of this hints at the very real possibility that weed and metal are going to form a deeper financial bond. This may not happen right away, but as marijuana becomes more legitimate to the American public, this pairing seems inevitable.
—Addison Herron-Wheeler
...
More From Invisible Oranges