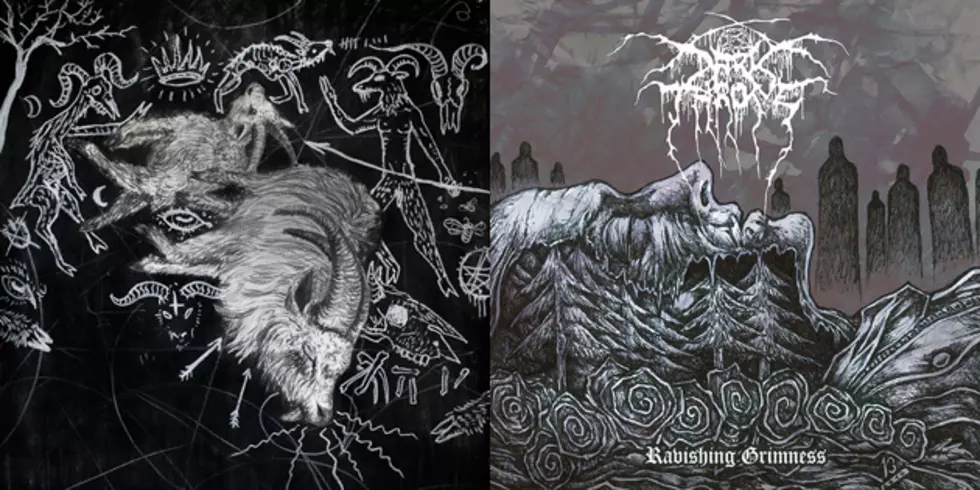 Darkthrone: Artwork contest winners, more Fenriz commentary
A good chunk of Darkthrone's discography I don't listen to: the middle part. For me, that's from 1995 (Panzerfaust) to 2001 (Plaguewielder). Many are fans of the records from that time, but they don't do much for me.
Aside from the music, one reason why I never got into those records is that their covers are ugly. The band was in a visual slump. Panzerfaust's moonlit forest is functional, and Total Death's planetary landscape is charming in a primitive way. But Goatlord's mirror effect is cheesy, and Ravishing Grimness and Plaguewielder... well, a blind person could do better.
So Darkthrone had a contest to get new artwork for Goatlord and Ravishing Grimness. The winning entries are above. (For larger images and commentary, see here). The results are great, and might be enough of a makeover to put those records in a new light.
Peaceville is reissuing Darkthrone's Moonfog records - the part of the discography I don't listen to. Reissues of Panzerfaust and Isengard included a bonus disc of Fenriz providing commentary on the albums in their entirety. (Hear clips here.) An upcoming reissue of Total Death also includes a bonus disc of commentary. Here's a clip:
Fenriz has one of those could-make-the-phone-book-sound-interesting voices. He really should host a radio show. Here, he dissects his own work mercilessly but humorously, pointing out his influences. It's a refreshingly humble attitude for a musician of his stature.
I'm listening to Total Death now and thinking that it should be called Total Celtic Frost Worship. In this interview, Tom G. Warrior talks about the Celtic Frost influence on Darkthrone. It comes full circle on Tripytkon's Shatter EP, where Nocturno Culto guests on a live version of "Dethroned Emperor". I don't know if Total Death will last like "Dethroned Emperor". But with Peaceville's reboot (sort-of-new artwork (the CD now has the original LP artwork), bonus track, Fenriz commentary), it deserves another look.
More From Invisible Oranges