Converge, Job for a Cowboy, Rise and Fall, Animosity @ SO36, 19.06.07
SO36, Berlin, 19.06.07
SO36 isn't just a club. It's a friggin' complex, with stairs in back and on the side leading up to an immense backstage area that resembles an office, albeit a punked-out one. Graffiti from previous occupants litters the walls. In multiple rooms, band and crew members sprawl on couches, check email, and warm up on guitar. I am astonished to see someone firing up a full-on buffet for Converge, Rise and Fall, and Animosity, who are touring Europe together. Today's Never Say Die! festival adds Job for a Cowboy, as well as two bands of utterly forgettable, breakdown-crippled hardcore.
Animosity
Animosity goes on way too early, at 7:30pm. At this point, they should never play first on any bill. For youngsters barely of drinking age, they have more chops and maturity than most of their peers. Technical death metal crunches through the speakers, but new material from the upcoming album, Animal, detours through prog and rock. Leo Miller isn't using his low death growl so much now, sticking instead with a more natural midrange yell. He stomps around like an angry bull and pours water over himself, scaring the delicate girls in front wearing metalcore T-shirts. New bassist Evan Brewer confidently pumps out complex lines without looking at his instrument. The band is a well-oiled machine.
Rise and Fall
Belgium's Rise and Fall have a familiar sound - "death 'n' roll," "punk 'n' roll," whatever you want to call it. Think Motörhead crossed with High on Fire through a hardcore lens a la Doomriders. I don't understand a single word, but the philthy bass tone and Ramones stances speak volumes. Boys and girls bop along in a rather cute slam dance fashion. Sometimes the attack is too pulverizing, and the pit flags accordingly, but screw being a "warm up band"!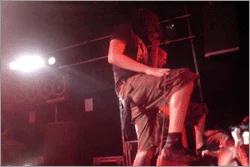 Job for a Cowboy
Job for a Cowboy is the hottest band in metal at the moment because of MySpace. Even before its first full-length came out, its profile got millions of hits, and bands were already citing it as an influence and imitating its pig squeal vocals and logo font. Only a month after the debut album's release, half the kids here wear JFAC shirts. Girls scream, guys call out to band members by name, people request songs. JFAC prove themselves a technically proficient but otherwise mediocre death metal band. I don't see what the fuss is about.
Converge
Converge blows away my highest expectations. I talk to Jacob Bannon before the show, and he is exceedingly humble. Actions speak louder than words, though. Birdlike, he flies around the stage summoning death and catharsis. He often crouches at the front and lets the kids sing his words. They pile over each other to get at the mic. I am pressed against the stage so hard my hip bone gets bruised. In fact, my entire back feels like a bruise. Fists, hands, fingers, faces, and elbows push and punch against it. A kind-faced girl clutches my shirt as she disappears, feet flailing, into the pit.
Electricity runs through the band. Kurt Ballou may be the most underrated guitarist alive. He sprays forth chunky chords, cutting runs, all manner of strange noises. Nate Newton hoists his bass skywards, sending dirtclods of distortion flying. When Ben Koller pounds out blastbeats, the venue shudders orgasmically. Slam dancers keep knocking the wind out of me. I am afraid; I am alive.
For the full 23-photo gallery of the show, go here.