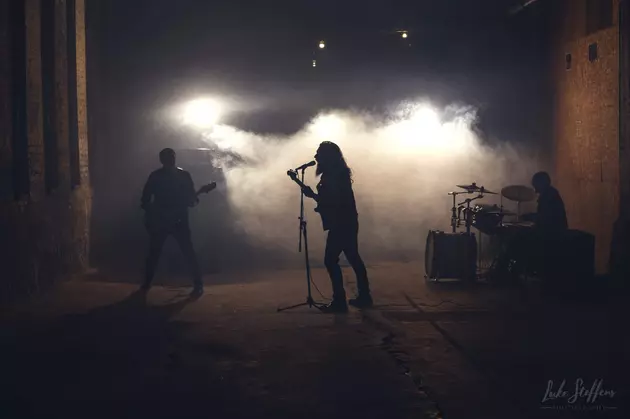 Chrome Waves Offers its Bleak Visions on New Video for "Open Casket"
Photo credit: Luke Steffens
While you could consider Chrome Waves a side project or supergroup, it would do a disservice to the extent to which the post-black metal practitioners have established themselves in their own right. With roots in the crushing Midwestern scene, Chrome Waves emerged almost a decade ago as the brainchild of drummer Bob Fouts (Apostle of Solitude, The Gates of Slumber) and guitarist/synth player Jeff Wilson (Abigail Williams, Wolvhammer). Last year, James Benson (Amiensus, Fail to Decay) was recruited as lead vocalist and Micah Leonetti, also of Abigail Williams and Wolvhammer notierety, took over on bass. Together, Chrome Waves transcended the sum of their already highly-capable parts to produce this year's devastating new full-length A Grief Observed.
Through six unrelenting tracks, A Grief Observed is an ode to how far-reaching metal has become. Integrating folk-like sounds along with crisp instrumentation, a particularly dire spirit is achieved as humanity confronts mounting depression, creeping tides, and other very real issues. While our future may be grim, the darkest sect of music is taking it all on in stride. Chrome Waves isn't afraid of plowing onward, but we wouldn't expect anything less from a roster marked with the evolutionary mastery of Abigail Williams.
Chrome Waves have never been ones to neglect the element of performance, consistently staying attentive to visual details. Still, the quartet manages to keep things fresh with their latest visual contribution for the song "Open Casket." While the video for "Past the Lights" from mid-February is a polished take on metal's potential for accessibility and even downright catchiness, the new video for "Open Casket" (premiering below) is a hypnotic adventure of Blair Witch proportions. Directed by David Brenner, the eight-minute track provides a gripping, mid-tempo slice of sinister heavy music. And as we are taken through pulsing images of long-rooted cemeteries and bleak landscape, we are reminded that death remains a constant through building bricks and hitching powerlines.
Follow Chrome Waves on Facebook. The band will be on tour in April and May this year (dates below).
4/4 Coalition TO - Toronto, ON
4/5 Mavericks - Ottawa, ON
4/6 Sun Tiki Studios - Portland, ME
4/7 Dusk - Providence, RI
5/3 Warehouse - Lacrosse, WI
5/4 Bigs - Sioux Falls, SD
5/5 Vaudeville Mews - Des Moines, IA
Support Invisible Oranges on Patreon.
More From Invisible Oranges