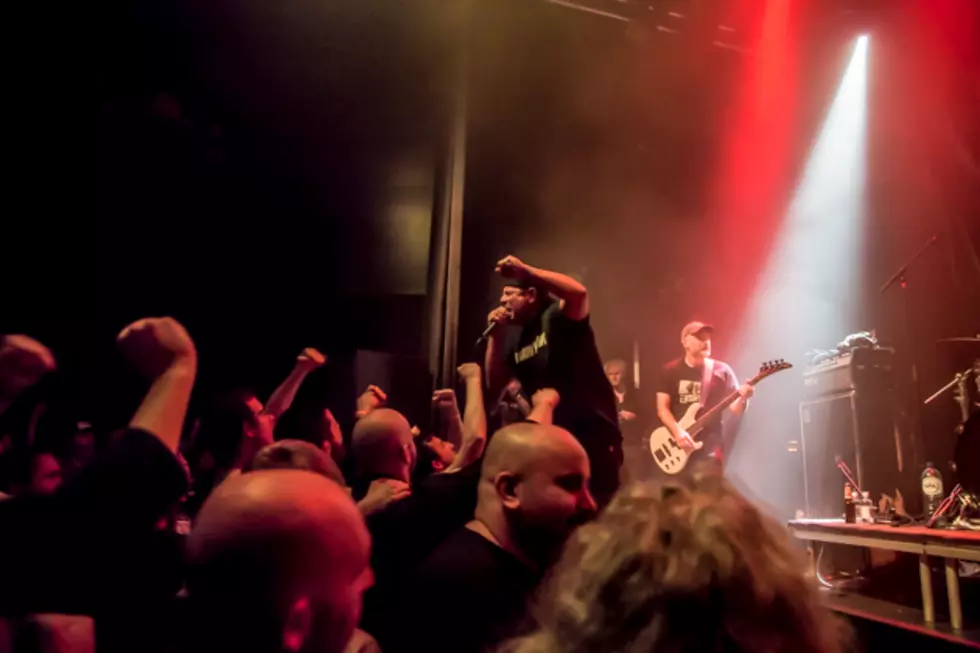 Live Report: Bloodshed Fest 2017
Infest by Daniel Sampaio
For those of us living in Southwestern Europe, the Benelux region can look like a small haven for underground heavy music: Belgium gave birth to Amenra and their Church of Ra siblings, the mythical Roadburn Festival has been held in the Netherlands since 1999, and Germany's Frankfurt Airport is just 4 hours away by car. Spain and, especially, Portugal, are too used to seeing "European Tours" which completely neglect the two countries, as the trip toward the Iberian Peninsula is too costly. Infest took 30 years to play their first European shows and didn't visit our country; Unholy Grave and Noothgrush are similarly absent during their European tours; even Swedish veterans Disfear have been gone for far too long.
Eindhoven's Bloodshed Fest 2017 was waiting for all of them and many more, which made it irresistible in October when traveling and accommodation is substantially cheaper than a couple of months earlier. The hardest part of scheduling the trip was resisting the temptation of staying for a couple extra days -- on the day of our return flight, Southern Lord curated an event in Amsterdam headlined by Sunn O))) and featuring Magma, Unsane, and Circle, among others. One day after that, the Melvins visited Amsterdam as well, and just one day after that, on October 31 no less, Amenra presented their new Mass VI in Brussels at a special show. Truth be told, Bloodshed had over 30 bands, and that should be more than enough to quench our thirst.
Having arrived one day earlier, we got the chance to attend the pre-party -- so we headed towards Burgers, the chosen venue for Day 0. After wandering around, we finally found what looked like a squat and were quite surprised that they didn't, in fact, serve any burgers (we later learned that "burgers" is the Dutch word for "citizens," so blame it on our poor language skills). Squatting is illegal in the Netherlands, but some of the squats became legal as long as they operated as non-profit, cultural organizations. Judging by the decent looks of the place, and having noticed some curious but tolerant neighbors on the top floor, we assumed this was the case. Even though the place was not too big and was semi-empty by then, it felt welcoming: people seemed nice and there was cheap beer – the basic requirements for a night of sonic violence were met.
We went for a quick bite, and when we got back, grindcore duo Witches Brew were already playing. Their blunt style (and the fact that there were only a few people watching) made it look somewhat like a live rehearsal, not quite into the festival mood yet. The lukewarm atmosphere continued with No Gods No Masters, a sludge band that seemed a bit out of place -- they sounded like they were building up for a climax that never happened. Maybe it could have worked elsewhere, but their sluggish songs and static posture couldn't keep the crowd interested, and the set eventually proved itself too long.
Within a few seconds of watching Polish crust grinders Herida Profunda, we could tell they were all about anti-fascist activism, which led us to an interesting realization: every banner, shirt, or sign around us pointed out the anti-fascist nature of the space. While this is something you expect to see at a squat, I did notice that everything appeared more openly politicized than what I am used to in Portugal, which also applies to the bands. They would address the audience, talking about serious political issues and grabbing every chance to express their contempt towards nazis, the police, and other forms of oppression and prejudice. The audience would cheer and applaud every time. As cringeworthy as this sounds, it has become too easy to take the core values of punk and strip them of their meaning, throwing them around like they are part of some shallow, disposable aesthetics, so this earnesty made me smile.
Travolta had the same kind of attitude: their witty frontman taking breaks in between songs to make small political speeches right before we were slapped in the face by their furious powerviolence. They made the most of the makeshift stage and were, along with Bestial Vomit, the most captivating band to perform. The latter resembled a Peruvian incarnation of Sarcófago and did a great job at thrashing the place, inducing what was probably the biggest collective headbang of a mosh-less evening. We called it a night after Psychoneurosis' groovy grind set, during which a bunch of bulky, sweaty dudes partying around with their shirts off blocked our view. But it was fun nonetheless.
There's a sense of freedom while traveling that might explain why it's so addictive to some people, even when there's not too much time for sightseeing or visiting the typical tourist attractions. That freedom, however, can sometimes be a double-edged sword. What was meant to be a quick snack before the first day at the main venue turned out to be a not-so-friendly reminder that being too careless with what you eat may not be such a good idea. In fact, it can knock you down pretty fast, as our photographer would attest, and it highlights the fact that a quick read up on foreign healthcare systems should always be in order before traveling to another country.
Luckily, it wasn't as bad as it could've been. Apart from the exhaustion, attending the last day of the fest was a no-brainer, and we just had to deal with the mixed feelings of relief due to the quick recovery and frustration for having missed the previous day. That frustration grew as we were told how Jucifer had "leveled the place with their unique brand of extremism, which on that stage did to death and doom metal what the Blasphemy school of bestial sounds does to black metal." Later, we were also told how "Disfear got the best reaction of the evening whilst spamming gang-shouts as if their life depended on it, although the mightiest lesson on this topic of punk taken to the extreme had been delivered earlier by Noothgrush. Sure, they rely mostly on classic songs, but it's as hard to deny the timelessness of songs like "Oil Removed" and "Hatred for Species" as it is to find examples of better sludge songs written in the meantime." Also, how "after Rotten Sound had a performance as lukewarm as their recent studio output, the night ended in truly abrasive fashion with Dutch artist Svartvit, who delivered a short but oh-so-sweet dose of proper frequency wizardry by way of noise."
Leave it to friendly reporters to rub salt into the wound.
No smoking inside the venue means you're periodically faced with the discouraging concept of standing outside freezing your ass off just to get a buzz. After doing so, we rushed in, so as to not miss anything (well, any more than what we had missed the previous day).
Probation and Vandersloot were the first bands to play the main and basement stage, respectively. Though full-bodied and aggressive, Probation's approach to hardcore music is pretty conventional and therefore not particularly remarkable. At least they were both committed to what they were doing, and they were decent choices to kick off such a long day -- they filled the first out of 12 hours of non-stop music.
Tannhäuser Krieg define themselves as "road metal," and they sound just like you'd expect them to when first hearing that description. Their energy on stage made the songs sound catchier and faster than on record, and somewhat reminiscent of Metallica's early days. Unfortunately, their set had to be cut short due to some technical issues, apparently a faulty amp. This was the last show of their European tour which, ironically enough, was called "Cursed Kingdom". We actually felt bad for them.
I'm all for diversified lineups, but I'm not sure that including Red Apollo here was a good move. It was still early in the afternoon, and the place was far from crowded. Some people stuck around to see them, and a few looked like they were enjoying it, but overall the introspective, dense, space-trip-like atmosphere that this post-metal act had to offer was underappreciated.
There are times, however, when a seemingly misplaced band ends up becoming a success. I'm talking about Hellrad -- it was a surprise to see the basement almost completely packed to see this sludge/stoner trio, fronted by a guitarist with some serious Zakk Wylde vibes, and what a hell of a show they played. Between Red Apollo and Hellrad, there was a forgettable Collision set. It wasn't exactly bad, but when a band has two vocalists that sound almost alike, that choice of lineup seems more like a gimmick than something that actually adds value to the music.
Later on, Mass Grave gave a lesson on that topic, making use of different strengths to enhance different moments of the songs (although the symmetry of their vocalists' movements, as if someone had put a mirror in between them, was so weird it was worthy of note). They played a set as chaotic as expected, leaving the audience properly floored with their grinding crust rage on environmental issues and a plethora of other reasons to hate mankind.
The basement saw some of the most sweaty, powerful gigs of this day. Lugubrious Children set the mood for some well-intentioned ass-whooping within the crowd, leaving the air heavy and thick and the walls dripping with sweat. It was shorter, but similar, to Teething's set. Seeing the latter live for the fourth time served as a confirmation that Spanish grindcore really makes you get in touch with your inner, most pissed-off self. When their fucking timebomb of a frontman isn't screaming about the racism he had to endure while growing up, or about that "Asshole Cancer," an ever-present song in their sets, he's stirring shit up, climbing up speakers, and crowd surfing. It didn't matter whether the basement had a low ceiling.
The little civilized gestures we found during this short trip, like the apparently genuine politeness of retail workers, make Dutch people seem extremely mindful of others. It would be reasonable to think the sober posture we saw during the pre-party was an accurate depiction of their behavior at punk shows, but as soon as Harm Done started playing, some tall-ass dudes started swinging their arms right in the middle of the crowd and I suddenly realized how poorly positioned I was. I should've seen it coming, since some Harm Done fans look like your douchey hardcore kid with a Nails t-shirt who's always thinking of new, innovative ways of opening up the fuckin' pit, annihilating as many people as they can during the process.
But, I decided to stay where I was: being five feet four inches tall, I wouldn't be able to see anything if I moved to a safer place. Besides, I like to think I can take a hit. Luckily, I had a safety barrier consisting of two even bigger guys who pushed away the people with no mosh etiquette. It was an intense, demolishing set that lived up to the expectations. So intense, in fact, that I feared it would take the edge off Sex Prisoner's performance which ensued on the main stage. This didn't happen, although that sweaty-hostile-testosterone-filled atmosphere was not as noticeable in a bigger room.
You know that feeling you sometimes get at festivals, where at the end of four or five bands' sets it all starts sounding the same? I'm not sure how that played a part in my appraisal of Unholy Grave's show, but it felt quite underwhelming. Everyone went berserk when they appeared on stage, myself included, but that excitement started to dissipate after a little while. The performance lacked intensity and things started to get extremely repetitive. I got the feeling they were playing the same song in loop throughout the show. I eventually got tired of it and that sucked, because I really appreciate their music… just not live, I guess.
After a quick visit to the basement stage to check out Kontatto, we noticed it had become significantly harder to make way through the crowd. This was easily explained by the approaching Infest set, without a doubt the most awaited band of the evening. The front rows were already busy with die-hard fans getting emotionally ready for the upcoming mosh pit madness and competition over the mic. The hype was completely warranted, and one wouldn't need to be an Infest fan to thoroughly enjoy this: everyone was loving it, and it was contagious. What always gets me about Joe Denunzio (apart from his wide variety of grimaces and scowls) is that he looks even more psyched than the audience, always having a blast, spasming around during the few seconds their songs usually last. Thirty years later, he is just as excited as that kid who recently started attending shows, and he spent most of their set right in the middle of the pit. The only difference between him and those around him was that he's the frontman for what is arguably the most respected powerviolence band alive today.
I wasn't quite sure how to feel about the acts wrapping up the night, but an exquisitely dressed Otto von Schirach didn't need much time to help me to form an opinion. The main room, where a powerviolence-fueled riot had taken place just a few minutes earlier, had now turned into a dancefloor. It was hard to tell whether people knew what Otto von Schirach was about, or if they were just as lost as I was, but everyone got in the mood pretty quickly. Watching from the upper floor I was able to get a good idea of the crowd, and I could see more and more people joining in. It was quite a sight watching all those punks and metalheads with the spiky jackets and the dreadlocks getting funky to the frantic, bizarre tropical breakcore music.
A self-described bass warrior from the Bermuda Triangle, Otto is a lunatic with an overwhelming confidence that allows him to perform this kind of show for an audience whose reaction he can't possibly predict. He keeps a straight face even while doing the chicken dance, but at the same time doesn't seem to give a fuck about what anyone thinks, shutting down the possibility of making fun of him. His performance was the only one which lasted more than an hour, enhanced by the sick beats of drummer Balazs Pandi who joined him on stage toward the end.
We went downstairs to take a brief look at Sex Injuries, who were playing simultaneously on the basement, but soon decided to get back to the main stage because Otto's set was just so damn good. Apparently we weren't the only ones thinking this, since most of those who hadn't left after Infest stayed until the end of Otto von Schirach. Maybe this wasn't that surprising, given the punk and grind overdose throughout the two days of the festival; in either case, it was nice to see that this wasn't an elitist or prejudiced crowd, and was capable of enjoying itself regardless of the musical style.
For many, Otto was the perfect way of ending the festival, but those who wanted to keep the party going still had Droon playing in the basement. An eccentric figure sporting a flying-V replica made from cardboard and a computer keyboard. picked up where Otto had left off, with a mash-up of crucial artists such as Dragonforce or Kelis either sped-up or deformed into glitchcore. Mixed in were some unfamiliar Dutch trashy tunes that apparently were a hit in the Netherlands as most of the crowd sang along. After such a heavy festival, filled with so many bands and so many political undertones, this lighthearted deconstruction of popular, almost vapid music was the best way of leading us back home in high spirits.
A big thanks to LOUD! Magazine's Luís Pires for his take on the first day of the festival.
More From Invisible Oranges