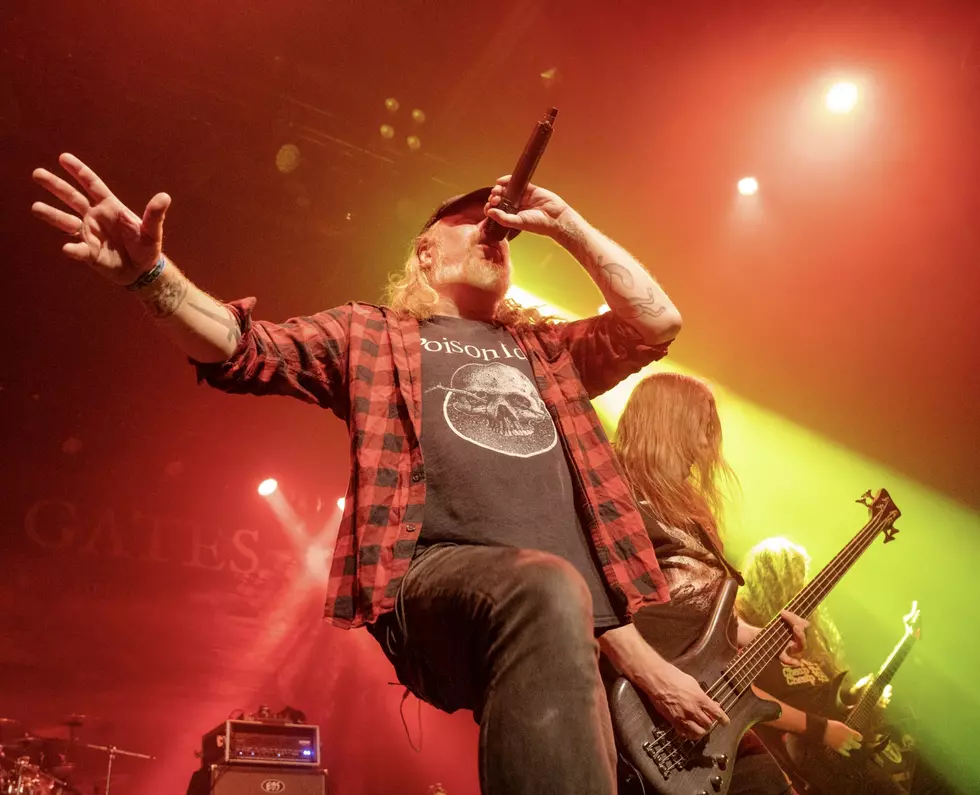 Slaughtering the Soul, Flesh, and Expectations: At the Gates, Municipal Waste, and Enforced at Union Transfer Philadelphia 8/28/2022 (Live Report + Photos)
Photo credit: Nadine Maziarz
---
In a quaint chandelier-filled music venue converted from an age old luggage transfer station, fans of heavy metal music experienced a treat for their senses.
On August 28th, Union Transfer Philadelphia welcomed legendary Swedish melodic death metal band At the Gates, supported by thrash metal party animals Municipal Waste and the powerful crossover thrash metal band Enforced.
...
Drenched in intense blue and white light, Enforced began their set with the track "Trespasser", followed by popular hits "Skinned Alive" and "Reckoning Force". Descriptively, Power Trip and High Command come to mind with inherent similarity to their tourmates Municipal Waste. Heavy riffage and brutal vocals reinforced by pummeling drums and the distinct rhythmic clack of cymbals filled the massive room from the opening seconds to conclusion, shaking the ears of the crowd and the vaulted wooden ceiling above. The passing thought of a chandelier falling to its demise wouldn't be abnormal tonight; however the reverberated rage remained contained. Long hair swayed and jolted in every direction with each head bang. The band brought out an earworm in their set: a new song potentially named "War Remains". I was fortunate to have met their talented and kind guitarist Zach Monahan for the first time, who took the time to share this information with me. Crossing my fingers I'll meet the rest of the band members next time around.
...
...
Amidst escalating anticipation, Municipal Waste were welcomed openly onto the stage. The pit formed immediately to the intro riffs of classics like "Breathe Grease" and "You're Cut Off" to name a few, and continued their entire set. Epic windswept hair lent a unique visual flair to their performance, created by discreet electric fans on stage. Upon introducing "Wave of Death", the band summoned the audience to crowd surf in droves, to which they eagerly obliged. Veiled in blue and orange glow with their distinct logo shining from speakers like lighthouse beacons, they resumed with "Sadistic Magician", a long time favorite of their unique yet familiar style. Within the blink of an eye followed the short but sweet "Black Ice" and "I want to kill the President". Don't you worry, Municipal Waste doesnt want to kill the President...
With bated breath, Municipal Waste introduced "Electrified Brain", the title track to their most recent album that has made itself quite comfortable on my stereo since release. Switching from tongue in cheek societal statements to endearing humor, a quality they are most known for embodying, Tony gulped a bottle of milk and spewed it into the crowd around the instrumental breakdown of "Under the Waste Command". He felt milk may have been a bad choice, however worthy in the pursuit of a wonderful performance it might be. Presenting "The Art of Partying" revved up the pit to a climax, and the band closed with "Born to Party." I never thought I would be caught up shouting back the chorus "Municipal Waste is gonna fuck you up", but there is a first time for everything. And just imagine, this is simply a taste of their 19 song performance. Afterwards I managed to catch their extremely sweet guitarist Nick Poulos in time to give him a hug and a hello. My best regards go to the rest of the band as well. Incredible people both on and off stage, it was a pleasure to finally see them perform for the first time.
...
...
Last but not least was the most anticipated band of the evening: At the Gates. The 2022 tour proved to be special as each night they performed their magnum opus album Slaughter of the Soul in its entirety after opening with instantly recognizable classics spanning their career. Another special attribute of this run is the inclusion of Atheist guitarist Daniel Martinez as a replacement for Jonas Stålhammer within a month of the opening position. Daniel's musical voice would prove to be an integral aspect of the band's presence and expression each night.
Beautiful classical acoustic guitar melodies reminiscent of a medieval age filled the air through various speakers: the distinct cue of "Spectre of Extinction". Surrounded by followspots of red and white light, eyes gleamed as the Gothenburg progenitors of melody-infused brutality immediately revived an almost two century old living landmark through the musical expression of death. A similar theme infused with existential and societal suffering followed as they performed another classic, "At War with Reality". Already within the first two songs, vocalist Tomas Lindburg demonstrated his iconic leadership and utmost engagement with fans and newcomers alike, encouraging the crowd to sing in response and become a part of the performance.
Translated directly from German as meaning the weather conditions, "Der Witterstand" cleared the air for "To Drink from the Night Itself", a highly regarded soul-slaughtering epiphany. Dancing displays of red and green light followed by moments of luminous pink and purple refractions highlighted each member's crucial contributions to this powerful track. Within the concluding moments, the bassist Jonas Björler stuck his tongue out in brief response to my photography, yet unfortunately I ran out of card memory to capture it.
The first half followed with similarly themed tracks such as "Death and the Labyrinth", "Touched by the White Hands of Death", and "The Book of Sand". Swaying and entering deep within my musical memory, every blistering yet soft solo from Daniel and Martin alongside Tomas' guttural yelps spoke volumes. In combination, the detailed rhythmic articulations of drummer Adrian Erlandsson and Jonas' bass licks brought me back in time to moments of self I once knew so well. With contextual lyrical messages, these songs took on new layers of meaning at my current stage of internal reflection.
Magnitudes of symbolism continued with the introduction of "Blinded by Fear", the first song of the collection from Slaughter of the Soul. With the blink of an eye they transitioned into the title track defined by similar meaning. In recognizable order the tracks from Slaughter of the Soul flowed one into the other. "Suicide Nation" left a heavy mark upon me, speaking of suffering and loss that unfortunately perpetuates with the inherent complexity of societal peer judgements and the experiential grappling of consciousness, human nature, and emotions. The theme was broken by the hissed announcement of the most brutal track on the album: "Nausea". Booming with excitement, Tomas exclaims "Are you ready to fuck it up?" Am I ready to fuck it up? Taken back into the current moment, I watched the mosh pit whirling to the motions of Tomas' hands. The mic stand also became almost an extension of his own body, twirling and jutting in every which way with each growl. Bittersweet endings surged at "The Flames of the End". The song was eclipsed by a duet of Daniel and Jonas in its beginning, and a concluding duet between Martin and Jonas standing face to face as the stage faded to black. Looking back, it has to be noted that Daniel Martinez memorized and performed a total of 20 complex songs between Atheist's tours!
...
...
I walked away with a deeper understanding of their lyricism combined with the duality of melody and brutality: life and death. Although the process of bands packing up for the night kept me from meeting the members, I feel more personally connected to them and their music now than I was before. Here's to hoping a day will come when I'll be able to express that.
However, there was an unexpected treat that night: realizing John Baizley and Gina Gleason of Baroness had been standing behind me in the crowd when I finished photographing At the Gates. I was extremely thankful to spend some time afterwards with John, a musician and gifted artist that I've personally looked up to for many years.
It was an absolute honor to capture some brief moments in pictures and meet some wonderful people tonight, and I look forward to the future endeavors of each band in the coming years.
—Nadine Maziarz
...
At the Gates and Municipal Waste completed their 2022 North American tour in Baltimore and New York on the 29th and 30th, and now set out on their individual international tours and festival dates. If you couldn't attend this US run, be sure to follow their updates, along with supporting bands Thrown into Exile and Enforced to see what's to come in 2023!
Keep scrolling for more pictures from the show.
Union Transfer 8/28/2022
More From Invisible Oranges