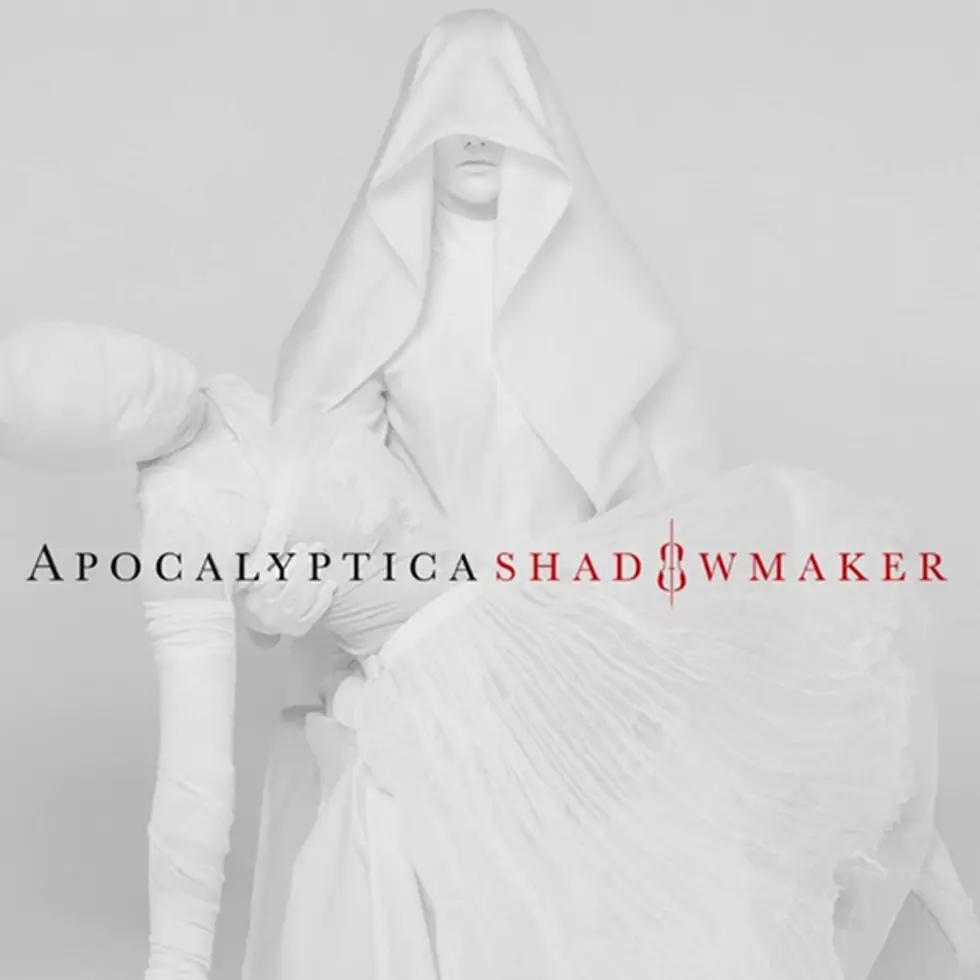 Apocalyptica – Shadowmaker
When Apocalyptica first emerged from the Finnish capital in 1996 with an album of Metallica songs played on cellos, the band almost seemed doomed from the get-go. Sure, it was a clever gimmick, but how could they turn it into a career?
Plays Metallica by Four Cellos came at a time when metal—at least popular metal—was struggling to overcome a decade-long period of public badmouthing, starting with the Parents Music Resource Center's ill-informed attack on metal's messaging to teen listeners and ending with the genre having been rendered seemingly irrelevant by a glut of grunge bands. Hardcore metal fans have never particularly felt the need to have the genre legitimized by outsiders, but let's face it, hearing Apocalyptica play a dozen well-known and beloved thrash songs on classical instruments helped prove something fans had suspected for a long time: there's never been much of a division between metal's layered virtuosity and baroque compositions of yore. Yngwie Malmsteen and Eddie Van Halen touched on it earlier, but Apocalyptica drove the point home.
Fortunately, Apocalyptica's longstanding members, Eicca Toppinen, Paavo Lötjönen and Perttu Kivilaakso, had some serious chops, having studied at Helsinki's esteemed Sibelius Academy. With each subsequent album they drifted further away from the concept of covering other metal musicians' work and got better at composing cello-metal compositions of their own. Early original tracks like "Toreador" and "Harmageddon" were a little rough around the edges but showed plenty of promise; by the songs on Apocalyptica's third album, Cult, the band had created the breathtaking "Hyperventilation" and "Kaamos," demonstrating what appeared to be a clear and singular voice in the annals of classical-metal crossovers. (Apocalyptica's cover of Edvard Greig's "In The Hall of the Mountain King" also demonstrated just how heavy some of the old classical tunes really are). For a moment, it looked as though Apocalyptica might offer a fresh take on metal, one that fused classical instruments, Scandinavian heritage and heavy-metal prowess, akin to Amorphis or Wintersun.
That didn't happen. Cult was also when Apocalyptica tilted in an overtly pop direction by introducing a rotating cast of guest vocalists, some of which worked much better than others. When they've chosen singers with character-rich, unique voices — Gojira's Joe Duplantier or Lacuna Coil's Cristina Scabbia, for example — the vocals have elevated Apocalyptica's instrumentation, lifting the whole thing up. But when they've worked with generic-voiced singers, such as Adam Gontier of Three Days Grace or Brent Smith of Shinedown, Apocalyptica has descended into a land of mediocrity where the cellos don't even sound like cellos anymore. They resemble guitars and bass and maybe some synth.
On Apocalyptica's latest album, Shadowmaker, they have at least made an effort for consistency by sticking to a single vocalist throughout the entire album—a first for the group. Unfortunately, on they've chosen one of those average-voiced singers, Franky Perez, to front the affair. Perez's voice has a Nickelback-ian quality, capable of that sort of fuzzed-out tunefulness that's pleasant but never dares challenge you or make you feel anything. Their instrumentation follows suit, rarely rising to the progressive, flamboyant dynamism Apocalyptica has proven it's capable of.
That's not to say that Shadowmaker is without its moments. Parts of the title track romp through Kirk Hammet-esque solos, tense Vivaldi plucking and horror-pop moments reminiscent of Ghost (B.C.), but all the best bits are the ones in which Perez isn't singing. The album's other high points are its instrumentals, particularly "Riot Lights," an electro-metal frenzy of relentless cellos that's thrilling on CD and will undoubtedly be a blast live.
I'm not saying Apocalyptica — or any other metal band, for that matter — should have to choose between walking a line of innovation that could lead to potential obscurity and making a career out of crafting listenable cello-rock anthems. I'm saying that for Apocalyptica, the latter path is strewn with significant tradeoffs. It isn't what these Finns do best. Deciding to populate Shadowmaker largely with garden-variety pop songs seems like a betrayal of one of metal's more unusual offerings in the past 20 years. It seems like a waste.
More From Invisible Oranges