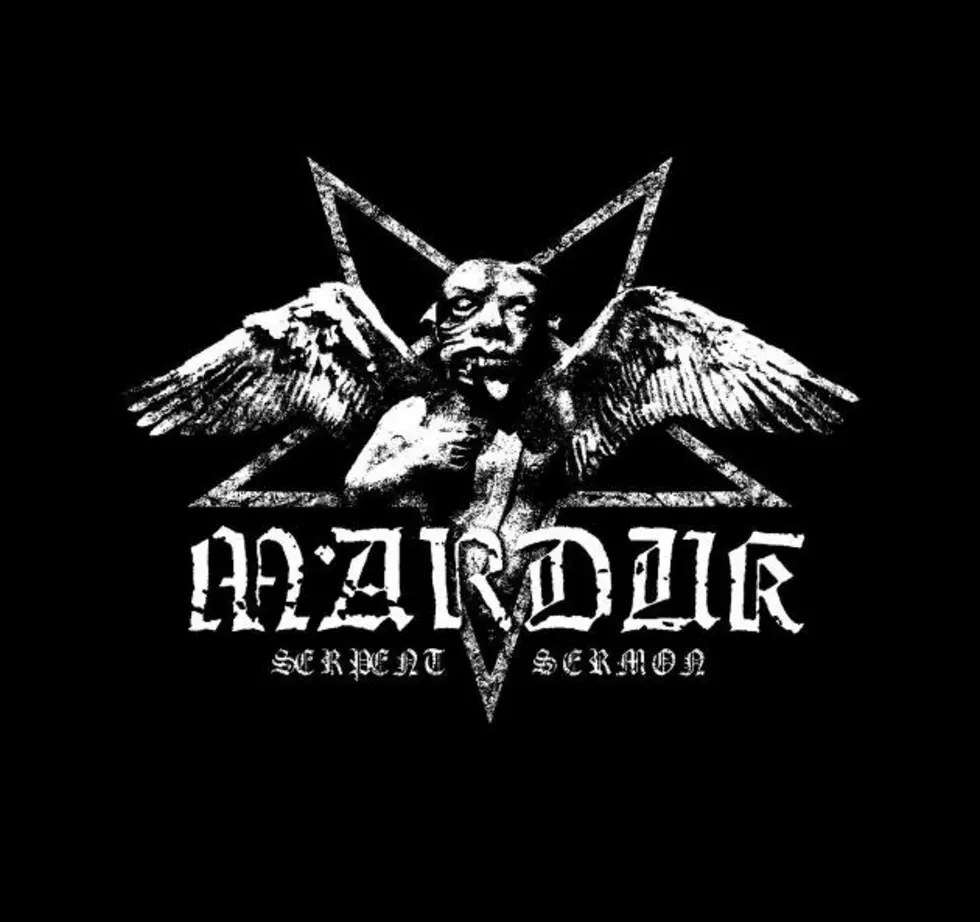 Album Preview: Marduk – Serpent Sermon
If you are a normal band looking to rev up a tour you'll probably play your hometown Hooters. If you are Marduk you'll trek to Siberia – one of the most inhospitable places on Earth -- for your first date. Marduk was one of the first extreme metal bands band to play far Russia near the Chinese border. They'll start on the edges of the Earth this year for a tour that will take them through Puerto Rico, North America, Europe and the festival circuit.
"It's a great place to start,"  guitarist and founder Morgan Håkansson said recently. "We've been to part of Russia and Belarus and Croatia.  We've been to these small parts of Russia near China. We're one of those bands that try to reach all the supporters we have."
The ambitious itinerary coincides with Marduk's twelfth release Serpent Sermon, the follow-up to the magnificent Wormwood, which sat near the top of many best-of lists in 2009. The album is Marduk's first released through metal major Century Media in partnership with their own label. It was recorded at Magnus "Devo" Andersson's Endarker Studio in Sweden for roughly eight weeks. Work was sporadic but the band often holed up in the studio for days on end when inspiration struck. Recording  spanned  from January to mid-February .
"We don't sit down and think about being experimental," Håkansson said. "We don't think about broadening our horizon. We just let the inspiration take us. I don't ever believe you sit down and plan and album. But right away we had a feeling that the title -- Serpent Sermon -- captured the feeling of the album and the spirit of the lyrics. The title speaks very much for itself. Everyone knows who the serpent is and everyone knows what a sermon is. It's diabolical. No one will miss the point. I believe in the power of our own creations and the strength or what we're doing. We have a burning ambition. It's a more focused album."
Håkansson said Marduk worked harder on Serpent Sermon so Mortuus' vocals and music could "become one."  "He's not only a singer or someone who places things to arrangements; he's almost like another instrument.  We've also worked to fit the right lyrics to the right songs."
Håkansson said all the changes with the band in the since their last album weren't a distraction but forced the band to make tough choices about how and where to release their music.
"We've been with Osmose  for years and then around 99 or 2000 were formed our own label and ended up signing an agreement with Regain. We had a gentlemen's agreement that worked for 10 years. But the industry is pretty tough and Regain has put the label on ice. We put out the word we were changing and we got interest from all the extreme metal labels and we decided to do the same thing we did with Regain with Century Media. They had a strong vision for the future. And they gave us total artistic freedom and allowed us to do their job."
If you haven't seen Marduk live and are wondering what to expect you might want to check out  this clip. I was at the San Francisco show when an unlucky fan tried to hug Mortuus and was face planted. The video subsequently went viral; many fans were critical. Håkansson  is unapologetic. "What do you expect? We are not the kind of band that likes to be hugged on stage."
7. Hail Mary (Piss-soaked Genuflexion)
Serpent Sermon will be released by Century Media on June 5.
Hear a track, "M.A.M.M.O.N.", from Serpent Sermon:
http://www.youtube.com/watch?v=WXII0nRvI_4
More From Invisible Oranges