Live report: Ævangelist, Oak, Artificial Brain, Disparish @ Saint Vitus
We co-presented this show with Signature Riff, so I'm not an entirely impartial judge here. Still, the lineup provided plenty of grist for the mental mill. Some recollections:

—Disparish is a brand-new band featuring Toby Driver of Kayo Dot on vocals and Andrew Hock of Castevet on guitar, among others. Those bands are both pretty outré by metal standards, but Disparish's music is conservative and maybe even a little retro. I was told to expect early Katatonia worship, but they've got some Thousand Lakes-era Amorphis in the mix too, and their shuffling pace reminds me of '90s-era mid-paced black metal. Driver's vocals have always been one of Kayo Dot's strongest selling points for me, but his tack here is totally different. He delivers straight-ahead growls and rasps, though I anticipate that his clean voice will come into play some time in Disparish's future. This band may as well have been built with my IO colleague Wyatt Marshall in mind.
—Artificial Brain play live quite rarely, but you wouldn't figure that out by watching them. Their new album, Labyrinth Constellation, is an absolute ripper (more on that later this week), and the compositions lose nothing in the performance. Artificial Brain are from Long Island; it's good to hear ambitious, high-quality death metal coming out of the New York area still. I love vocalist (and ex-Biolich singer) Will Smith's mad-scientist goggles.
—I unfortunately ended up missing much of Oak's set. My chief takeaway from what I did see was that vocalist Jo Gonzales is a powerhouse. He's got one of those voices that break and crackle like static; you can hear the folds in his throat rattling even over Oak's 'post'-flavored sludge din.
—Ævangelist's excellent 2013 album Omen Ex Simulacra flew under the radar for a lot of people, in no small part because of its many eccentricities. The live version of the band has even more quirks. Every member wears tribal-ish makeup; vocalist Ascaris sports a mask and is prone to rolling around on the floor; instrumental main man Matron Thorn plays a hollow-bodied jazz guitar instead of the standard pointy-framed Jackson or BC Rich. Most importantly, the band doesn't have a live drummer. They rely on a drum machine instead — always a dicey proposition for a death metal band. The band unsurprisingly suffered some sound balance issues for the first half of their set. (Note: always turn down the drum machine. Always.) But once Ævangelist hit their stride, their vortex sucked me in.
Check out some lovely photos and video of each band below.
— photos by Caroline Harrison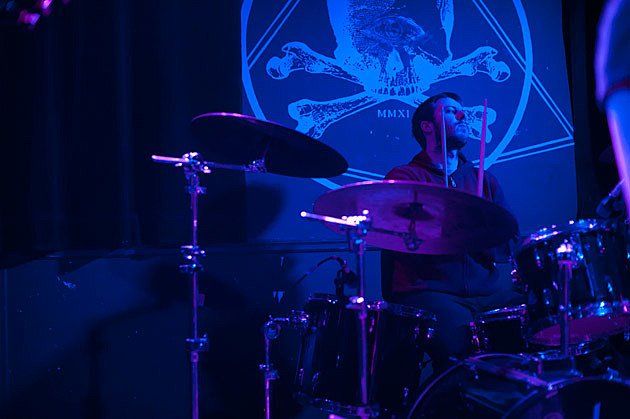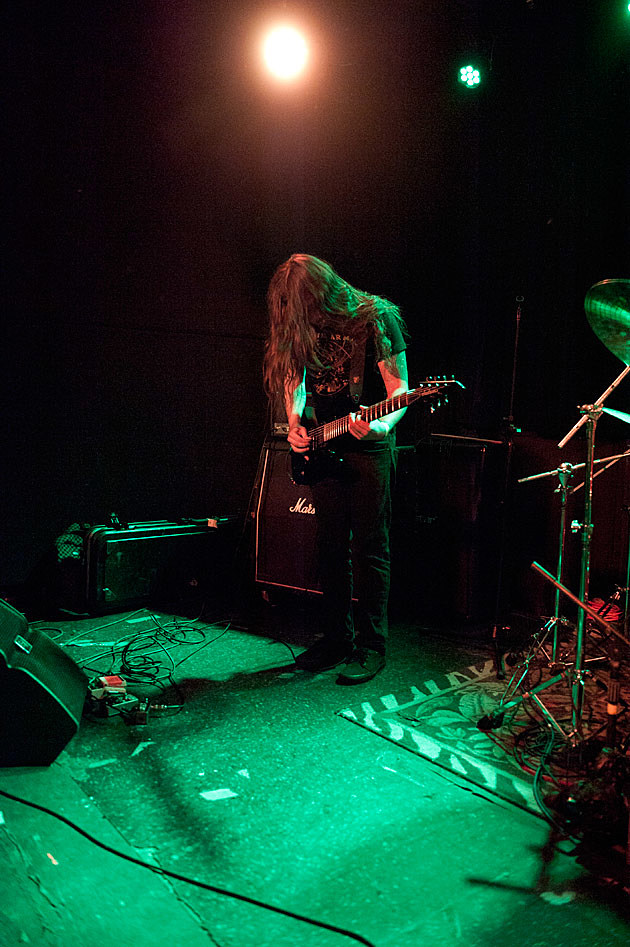 More From Invisible Oranges