20 album anniversaries we missed in 2013
...
Here at Invisible Oranges, we like looking back on the albums we love and considering their appeal and impact on significant anniversaries. However, given the amount of music we cover on a regular basis, there's always some stuff that falls through the cracks, and this year in particular was a big year for album anniversaries that we just didn't have time for. So, with that in mind, I whipped up a list of what I consider to be the top 20 albums, in terms of influence and personal appeal, that had significant anniversaries (anything divisible by and older than five years) in 2013 which we didn't cover. There are some big ones, and some less obvious ones as well. In order to move forward, we must pay homage to those who came before.
20. Blut Aus Nord – The Work Which Transforms God (2003) (10th anniversary) (stream here)
...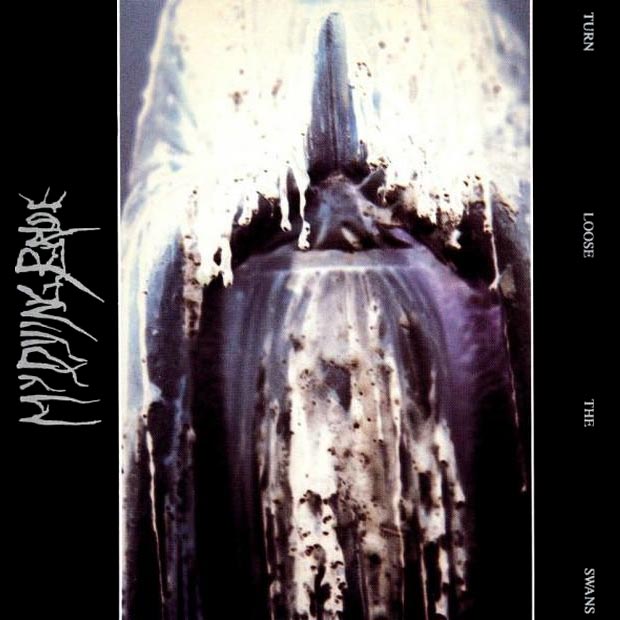 19. My Dying Bride – Turn Loose The Swans (1993) (20th anniversary) (stream here)
...
18. Gorguts – Obscura (1998) (15th anniversary) (stream here)
...
17. Burning Witch – Crippled Lucifer (1998) (15th anniversary) (stream here)
...
16. Nile – Amongst the Catacombs of Nephren-Ka (1998) (15th anniversary) (stream here)
...
15. (

here

)Demilich – Nespithe (1993) (20th anniversary) (

here

)
...
14. Cynic – Focus (1993) (20th anniversary) (stream here)
...
13. Type O Negative – Bloody Kisses (1993) (20th anniversary)(stream here)
...
12. Iron Maiden – Piece Of Mind (1983) (30th anniversary) (stream here)
...
11. Dio – Holy Diver (1983) (30th anniversary) (stream here)
...
10. Beherit – Drawing Down The Moon (1993) (20th anniversary) (stream here)
Drawing Down The Moon may be the odd record out here, but it bears mentioning simply because it has an influence that is often invoked but never copied or outright matched. If De Mysteriis Dom Sathanas brought Norwegian black metal to the world, Drawing Down The Moon showed that black metal could be weird and impenetrable. So many different elements of the album have been invoked by other bands over the years: the variable tempos, the thick guitar sound, the whisper-ish vocals, the absurd song titles, but no one has fully synthesized the whole disorienting sound. At 20, this is a record that is well worthy of more remembrance.
...
9. Earth – Earth2: Special Low Frequency Version (1993) (20th anniversary) (stream here)
Again, this record was a creator; in this instance, the creator of drone doom. From an aesthetic standpoint, it is unimpressive: the usual single-chord ooze that would come to be the trademark of the Sunn O)))s of the world. But remember, before this nothing of that sort had been tried in metal before. Think of how inordinately influential drone doom was in the latter half of the aughts, and then think what was analogous to that in 1993. From Dylan Carlson's basement to modern art museums, such is the legacy of Earth2.
...
8. Napalm Death – From Enslavement To Obliteration (1988) (25th anniversary) (stream here)
Having effectively created grindcore with Scum one year prior, Napalm Death now perfected it beyond a reasonable doubt with From Enslavement To Obliteration . The classic Side B lineup is in force here, with Mick Harris' blastbeats and d-beats at a perfect equilibrium of power and precision, and Lee Dorrian never sounding more enraged. There's a slow burn here and there, but it's all killer, and in 1988, this blew people's fucking minds. Every grindcore band today playing must pay homage.
...
7. Morbid Angel – Covenant (1993) (20th anniversary) (stream here)
After the whirlwinds of Altars of Madness and Blessed Are The Sick, Covenant showed Morbid Angel perfecting some of their more endearing motifs, in particular the slow, lurching gait that would come to typify some of their greatest songwriting. Furthermore, as the first death metal record released on a major label, Covenant brought many new metalheads into the fold with a record that was slower and more angular than the work of the Deicides and Cannibal Corpses of the world. Death metal was now unfettered, and Morbid Angel made it so at the height of its popularity. Bow to it faithfully, bow to it splendidly.
...
6. Carcass – Heartwork (1993) (20th anniversary) (stream here)
Yep, this too is a creator. Melodic death metal may have been an oxymoron before this record came out, but after Carcass showed that tunefulness and savagery could be blended in such a manner, the floodgates were opened. "Carnal Forge" pummels and massages in equal measure, and a clear production gives the band an eerily precise edge that had earlier been obscured in murk. Coming in 1993, at the apex of first-gen death metal, this is the album that brought melodicism to the necroticism.
...
5. Eyehategod – Take As Needed For Pain (1993)
(20th anniversary) (stream here)
Take As Needed For Pain may not have created sludge metal, but it is its ur-example, a lethal dose of American hatred condensed into a single LP. To this day, its razor-sharp guitars, booming percussion, and tormented screams conjure a singular vision of addiction, depression, and complete despair. Kill your boss.
...
4. Mayhem – De Mysteriis Dom Sathanas (1993) (20th Anniversary) (stream here)
Black metal never sounded so sinister as on this release: this is the music that would underscore the controversies of 1994, when Varg and Euronymous's relationship would come to a violent end. But real-world antics aside, De Mysteriis... remains absolutely incredible. Hellhammer's drums are mind-boggling, and Attila Csihar's lordly vocals bring an otherworldly pallor to the funereal proceedings. This is what brought Norwegian black metal to the world at large, and the genre has ever after proceeded in its shadow.
...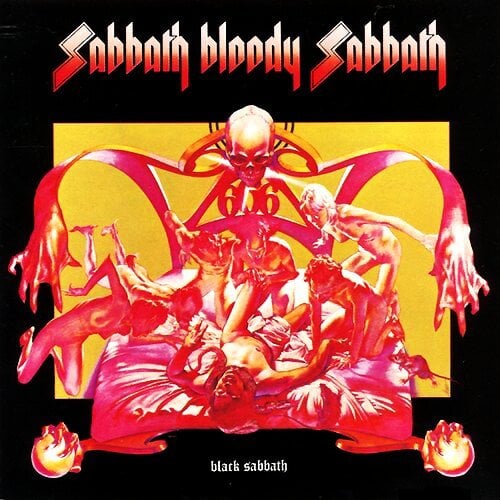 3. Black Sabbath – Sabbath Bloody Sabbath (1973) (40th anniversary) (stream here)
Sabbath's fifth studio work turned 40 this year, and while I don't consider it one of their peak works, it is, by virtue of being an Ozzy Black Sabbath album, unavoidably influential. The title track sports without a classic Iommi riff, and Ozzy's voice had by now matured into the winsome keen that would become his trademark style. This is Black Sabbath comfortable in their routine but not the tired, troubled group of Sabotage, making solid the foundations of metal that they themselves had built.
...
2. Slayer – Show No Mercy (1983) (30th anniversary) (stream here)
It was hard to choose between this and Kill 'Em All, but ultimately the latter holds up better for me. Every single riff on that album is a classic, while on this one there are some less-than-memorable sections and the production is less well-developed. That said, Show No Mercy is a close second, and while it is unpolished, it shows Slayer becoming the band that would record Reign in Blood. It thrashes, it grooves, it pummels, and above all it brings the Satanic majesty that Venom and other European bands had created to American shores. Here is where the Reign began.
...
1. Metallica – Kill 'Em All (1983) (30th anniversary) (stream here)
It was inevitable that this one should be remembered most: this absolutely essential record turned 30 this year. This is where thrash metal was born. This is where the race for fastest band got real. This is the album that brought the bass back to the foreground of metal. This is Lars and James playing as friends looking to conquer the world, not out of a business partners in it only to pay the bills. This is fucking Metallica at their most vicious. SEEK AND DESTROY MOTHERFUCKERS.
...