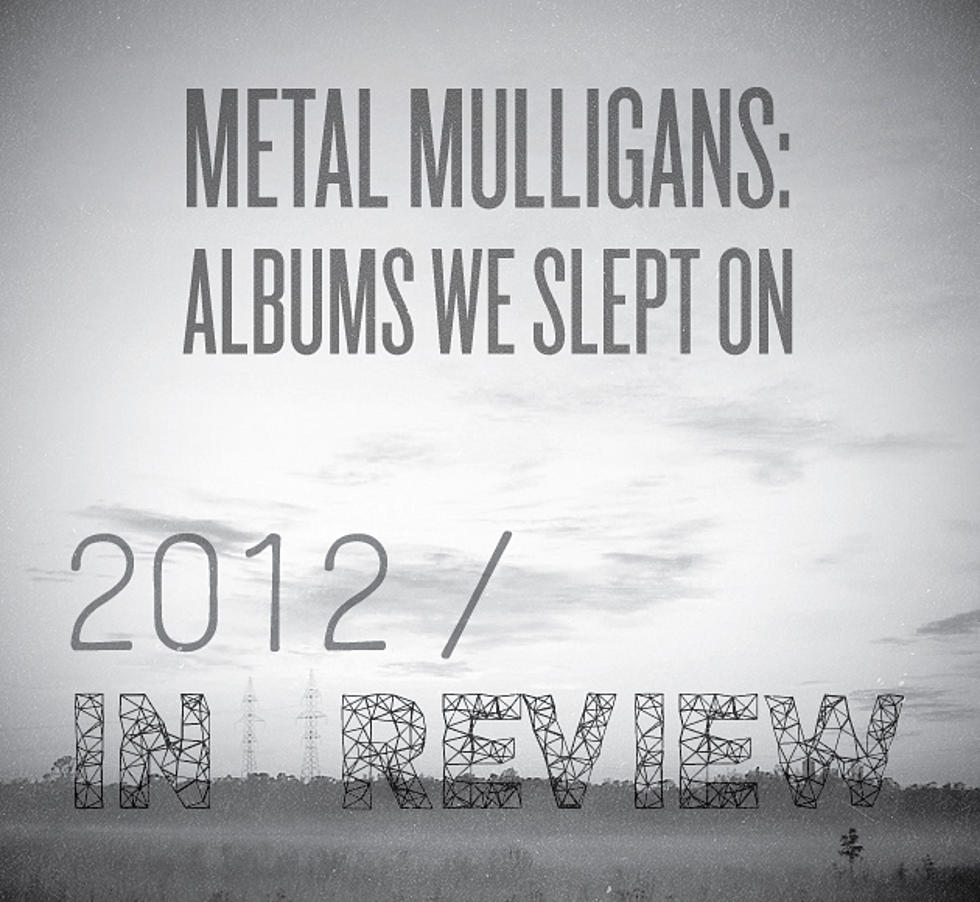 2012 Metal Mulligans: Albums We Slept On
If I could set a day aside every week to spend listening to new music, I would. If I could tack two hours on to the end of each day solely for new music, I'd do that too. If I did, I still wouldn't have time to listen to all the worthwhile new stuff that's coming out every week. We're drowning in splendor.
As much as I'd like to, I can't set aside a day every week to wallow in promos. I work full-time, and when I'm not working, various other interests and necessities compete for my leisure time. I'm not alone—all of us IO folk are in this boat, along with most other music bloggers, I suspect.
So, inevitably, some excellent albums slipped through the coverage cracks this year. Whiffing on greatness can happen for a variety of boring logistical reasons: poorly-timed street dates, faulty promos, organizational muck-ups, and old-fashion time crunches.
So, in lieu of a personal year-end top 10, I've compiled a list of 10 outstanding metal albums that Invisible Oranges should've covered in depth, but didn't. (I'm not a great believer in the value of 'my favorite albums'-style lists anyhow; they tend to re-endorse albums that everyone's been talking about all year anyway.) We've mentioned some of them in passing; others went unmentioned here. Our bad. Each one is worthy of your time and attention.
Dodecahedron – Dodecahedron (Season of Mist)
This album inspired me to compile this list. When it came out in January, I was too zonked from the preceding month's year-end calisthenics to absorb such a deeply strange record. It sat mostly untouched for the following two months. By the summer, it had become my clear favorite for the year. This Dutch debut (!) expands brilliantly on French avant-garde black metal, illuminating the darkness with psychedelic vamps and FX-drenched vox. Dodecahedron is genre-less and bottomless; I hear something new every time I spin it.
The Catalyst – Voyager (Forcefield Records)
Metal, hardcore, and noise rock make for a fashionable fusion these days, but the union often lacks the charms of its ingredients. Voyager makes the combination work—it's light-footed but heavy-handed. The Catalyst could be the next KEN Mode if they tour hard and reach the right ears.
Bad Powers – Bad Powers (The End Records)
Brooklyn noise rockers Made Out of Babies became one of my favorite bands over their three-album run—they churned AmRep-style beneath singer Julie Christmas's blood 'n' guts outbursts, until she split and MOoB died. Bad Powers is the same band plus new singer Megan Tweed, who matches Christmas's dynamic vocals through a slow-burning set of tunes written with Christmas in mind. Some exciting guest spots (Eugene Robinson of Oxbow, Lisa Papineau of Air) round out this promising rebirth.
Burning Love – Rotten Thing to Say (Southern Lord)
It's difficult for a vocalist who screams instead of sings to dominate an album. Chris Colohan, the veteran frontman of Cursed, Left For Dead, and The Swarm, manages the feat here. Burning Love's blues-gnarled hardcore (think The Suicide File) provides film stock for Colohan's highlight reel of aphorisms. One of Southern Lord's best hardcore-years releases.
Diskord – Dystopics (No Posers Please!)
In death metal, "technical" and "old-school" usually describe opposite ends of a spectrum. Both adjectives apply to Norway's Diskord. The band marries two aesthetics—Dystopics features analog tones and a label stamp that says "No Posers Please!," but the band members have short hair, and the album cover blares bright and un-br00tal colors. The compositions follow suit, oozing Autopsy-style through weird chord voicings and jazzy rhythms. Hard to find Stateside, but worth the effort.
Diskord - "Entropic Death"
Nekromantheon – Rise, Vulcan Spectre (Indie Recordings)
I only sort of understand what octane is, but you don't need to be a fuel chemist to know that Rise, Vulcan Spectre has lots of it. Norway's Nekromantheon play reverbed-out, Slayeresque thrash that's a blastbeat away from black metal. This shit is fast; my picking hand hurts just thinking about their band practices. Throwback thrash is usually a chore, but Rise, Vulcan Spectre slices straight through the cynicism.
Nemertines – SCD (self-released)
It doesn't get any more thoroughly modern than Nemertines. This one-man Russian djent outfit has released two albums and three singles this year alone, all exclusively through Bandcamp. They vary in quality, but SCD hits the hardest. It neatly sidesteps djent's two most common failings—overblown musicianship and terrible vocals—by sticking to eerie, instrumental heaviness. This is the closest I've heard a Meshuggah devotee come to approximating Nothing's otherworldly vibe.
Nidingr – Greatest of Deceivers (Indie Recordings)
Nidingr gets my pick for under-the-radar black metal album of the year. Norwegian BM lifer Teloch (Mayhem, The Konsortium, Ov Hell, etc.) and an impressive supporting cast combine ear-slicing dissonance with taut songwriting and stoic precision. Greatest of Deceivers isn't as expansive as some of the French stuff it's clearly modeled on, but it hits hard and makes a home for itself in your head. Plus, one of the band members is named Blargh. How can you go wrong? My favorite of Indie Recordings' 2012 crop, which also includes Nekromantheon and God Seed.
Nidingr - "The Worm is Crowned"
Sectu – Gerra (ViciSolum Productions)
Technical death metal had a crummy year. It's a dowdy style right now, and most of its leading lights spent the year hibernating or touring on their 2011 releases. A few worthy efforts bubbled to the surface, though. The sophomore album from Sweden's Sectu is probably the best of them—it glues the usual legato runs and pristine blasting together with tarry grooves, redolent of mid-period Morbid Angel. This album seems to have reached few ears on this side of the pond. Shame; the North American tech death scene should be snapping up copies.
Stagnant Waters – Stagnant Waters (Adversum)
Usually, "avant-garde black metal" means "black metal, plus some unconventional elements." Stagnant Waters inverts the ratio. Most of these songs have some black metal components—elusive riffage and Fleurety vocalist Sven Hatlevik's hollering, most often—but these components drift in a sea of weird. Jazz, IDM, and dark ambient go spanging off each other on virtually every one of these tracks. It's the atmosphere of hostility that keeps Stagnant Waters metal.
Stagnant Waters - "Algae"
More From Invisible Oranges