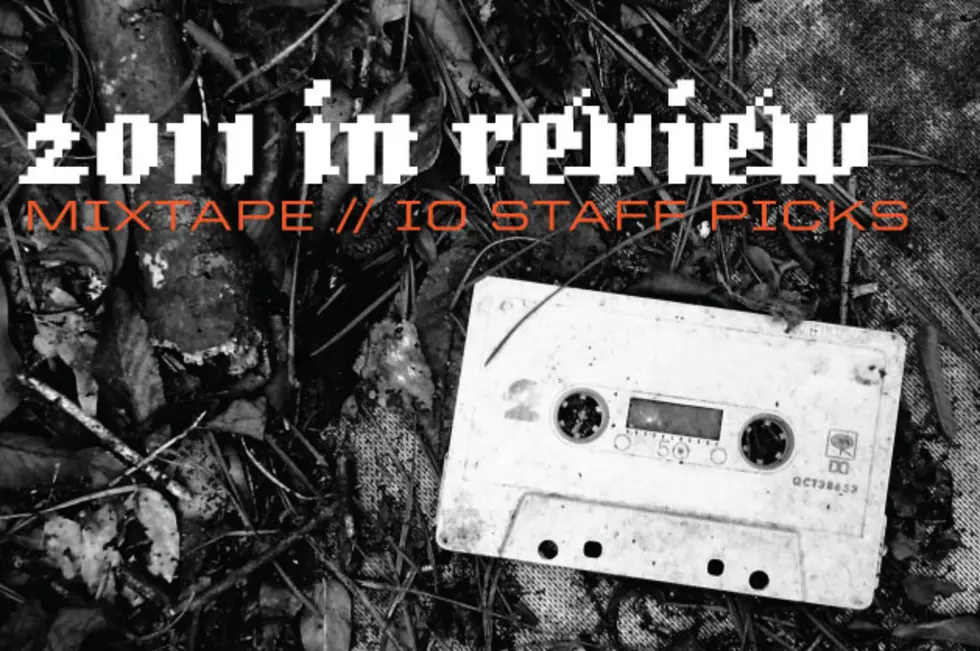 2011 In Review: Mixtape: IO Staff Picks
We know the grains of sand allotted to 2011 have slipped through the neck of the hourglass. We know we're supposed to have shed 2011's skin like a snake by now, and start slithering, reborn, into the future. But here at Invisible Oranges, we're not quite ready to say goodbye to 2011 just yet. Personally, the many year-end lists that came out recently only served to make me feel farther behind in my listening, so while the calendar may be ready to march forth, I'm not.
We have four more posts to run this week that are a final look back at the year that was. The first of these posts is a downloadable mix of songs picked by Invisible Oranges staff and contributors. We asked our compatriots to share with us their song of the year and a few words about why they picked it. For some, that meant simply showcasing their favorite song off their favorite album of the year. For others, it was a chance to share a song by a band that may not have made it on to their list of top releases of the year for whatever reason, or perhaps a song that, with the benefit of a few more weeks of listening time, crept higher up the stack of favorites.
The following mix is in no particular order, other than a listening experience that made sense to me. There's a little bit of every style represented in these 17 songs--from Graveyard's quick and dirty groove to Ensorcelor's blackened sludge. The last two songs alone are more than 30 minutes taken together, so put on your listening ears and get ready to enjoy what we think are some of the best songs that came out in 2011. And while you're at it, let us know what your song of the year was, and why.
— Vanessa Salvia
Vanessa is Invisible Oranges Assistant Editor for Staff.
1. Graveyard - "Hisingen Blues"
from Hisingen Blues (Nuclear Blast, Sweden)
Even metalheads need a feel good hit of the year, and this is it. Listen when you want a little reminder that our problems aren't as heavy as they seem. "Nothing lasts forever".
— Julia Neuman
2. Primordial – "No Grave Deep Enough"
from Redemption At the Puritan's Hand (Metal Blade, Ireland)
"All of the God's children they all have to die" . . . The song embodies all of Primordial's strengths --powerful melodies, evocative storytelling, and epic songwriting.
— Tim Hunter
3. High Spirits – "Full Power"
from Another Night (Self-released, USA)
This is MY party rock anthem. Play this on New Year's Eve and remember to "do it right / All night / at Full Power".
— Joseph Schafer
[Editor's Note: You won't be reading this until after New Year's Eve, but Joseph's advice is evergreen. The only bit I would add is to play it loud.]
4. Brainoil – "Gravity Is A Relic"
from Death Of This Dry Season (20 Buck Spin, USA)
Sludge metal is all the rage these days; Brainoil returns from eight long years of hibernation to show everyone how to do it right.
— Chris Rowella
5. Cave In -- "Vicious Circles"
from White Silence (Hydrahead, USA)
"Vicious Circles" is a righteous track that embodies the continual ferocity of Cave In. And Caleb Scofield still has the most pissed-off vocals in hardcore.
— Aaron Maltz
6. Craft – "I Want To Commit Murder"
from Void (Carnal Records, Sweden)
Craft roared over-the-top, subtle-as-a-megadeath misanthropy across one hell of a catchy, mid-paced, black metal freakout here. Top-notch blasting, and some unintentional (?) humor, made this song one of my favorites this year.
— Kyle Harcott
7. Atriarch – "Shadows"
from Forever the End (self-released, USA)
Atriarch bring a little bit of everything I like about metal: gothy evil witchery, doom, gloom, and death. This song starts heavy and gets heavier, and Lenny sings like he's ripping his heart out.
— Vanessa Salvia
8. Drugs of Faith – "Age of Reason"
from Corroded (Selfmadegod Records, USA)
Heavy metal and punk rock share a serious distaste for religion. Drugs of Faith blend punk and metal; this song fittingly tackles their mutual enemy.
— Doug Moore
9. Flourishing -- "A Thimble's Worth"
from The Sum of All Fossils (The Path Less Traveled Records, USA)
The debut LP from Flourishing begins here: with the volume and violence of a drone strike. Once it has laid waste to the land, it climbs, drawing from the dissonance a soaring melody…before the crash, the carnage.
— Mike Nelson
10. Liturgy – "True Will"
from Aesthethica (Thrill Jockey, USA)
I have often seen and heard noise acts who use tape and recording manipulation, but Liturgy's simpler choice of a voice overlay is both refreshing and surprising, especially in the live setting. It harkens back to a medieval sound that often comes into play in epic-sounding metal.
— Kelly Kettering
11. Ulcerate – "Cold Becoming"
from The Destroyers of All (Willowtip, New Zealand)
In haiku form:
it's still ulcerate
but something's different, right?
oh shit - song structure
— Michael Cacciatore
12. Today is the Day -- "Pain is a Warning"
from Pain is a Warning (Black Market Activities, USA)
"Pain is a Warning" makes me want to drive fast, get drunk, shimmy and shake, bang my head, and punch something. Although not necessarily in that order.
— Meghan Flewellyn
[Meghan is an Invisible Oranges text editor.]
13. All Pigs Must Die – "The Blessed Void"
from God Is War (Southern Lord, USA)
Fuck your emotional hair. Fuck your event coordinator. Fuck ugly cubist SUVs, tight-ribbed T-shirts, triple-gauge earlobe plugs. There is only noise, then darkness, then nothing.
— Scab Casserole
14. Altar of Plagues – "Neptune is Dead"
from Mammal (Profound Lore, Ireland)
The best song on my favorite album this year.
— Justin M. Norton
15. Circle of Ouroborus – "Warpath"
from Eleven Fingers (Handmade Birds, Finland)
With its haunting yet beautiful melodies, subtle counterpoint, and raw, mysterious energy, "Warpath" is exemplary of how dreamlike black metal can be.
— Tom Brandow
16. Seidr – "Streamkeeper"
from For Winter Fire (Flenser, USA)
This song is, in my opinion, Seidr's most emotionally charged work; it blends their unique type of expansive heaviness with a palpable atmosphere of mourning, losing nothing in the process and in the process speaking volumes.
— Rhys Williams
17. Ensorcelor – "Crucifuge"
from Crucifuge (Media Tree Recordings, Canada)
The title track off one of most powerful and criminally overlooked releases of 2011. Bleak, menacing, crawling blackened doom from the barren tundra.
— Kim Kelly
More From Invisible Oranges